This is your ultimate list of the best gluten-free sourdough bread recipes! Everything starting with a round boule to dinner rolls, flatbread, and bagels. If you don't have a sourdough starter yet, here is a basic guide to a great sourdough starter!
Jump to:
As an Amazon Associate, I earn a small commission from sales at no cost to you! Here is my disclosure statement.
What Is Sourdough?
Sourdough is bread made with wild yeast instead of the yeast you can buy at a grocery store. This wild yeast is called a sourdough starter. Normally, sourdough is not gluten-free, so those with celiac or gluten intolerance need to use gluten-free flour to make their sourdough bread. To begin, you will need to make a sourdough starter which is basically flour and water mixed together and maintained for a week or so. To get more details on that, follow my easy sourdough starter recipe.
However, you don't need to limit yourself to making bread with your starter! I have plenty of gluten-free sourdough recipes including pizza, cookies, cinnamon rolls, pancakes, and more.
My Secret to the Best Sourdough
There are two. The first one is psyllium husk. If you have never heard of it, go right over to the psyllium husk guide I put together for you. Basically, psyllium husk is the gluten substitute in gluten-free bread which helps make bread elastic, flexible, soft, moist, and kneadable. Xanthan gum is a thing of the past when it comes to bread!
The second one is a 13$ digital scale. Gluten-free sourdough baking is a serious business and we want all our measurements to be on point! A little alteration will change the texture of the bread and potentially make it gummy. So, if you plan on making GF bread consistently, I strongly recommend you get a scale!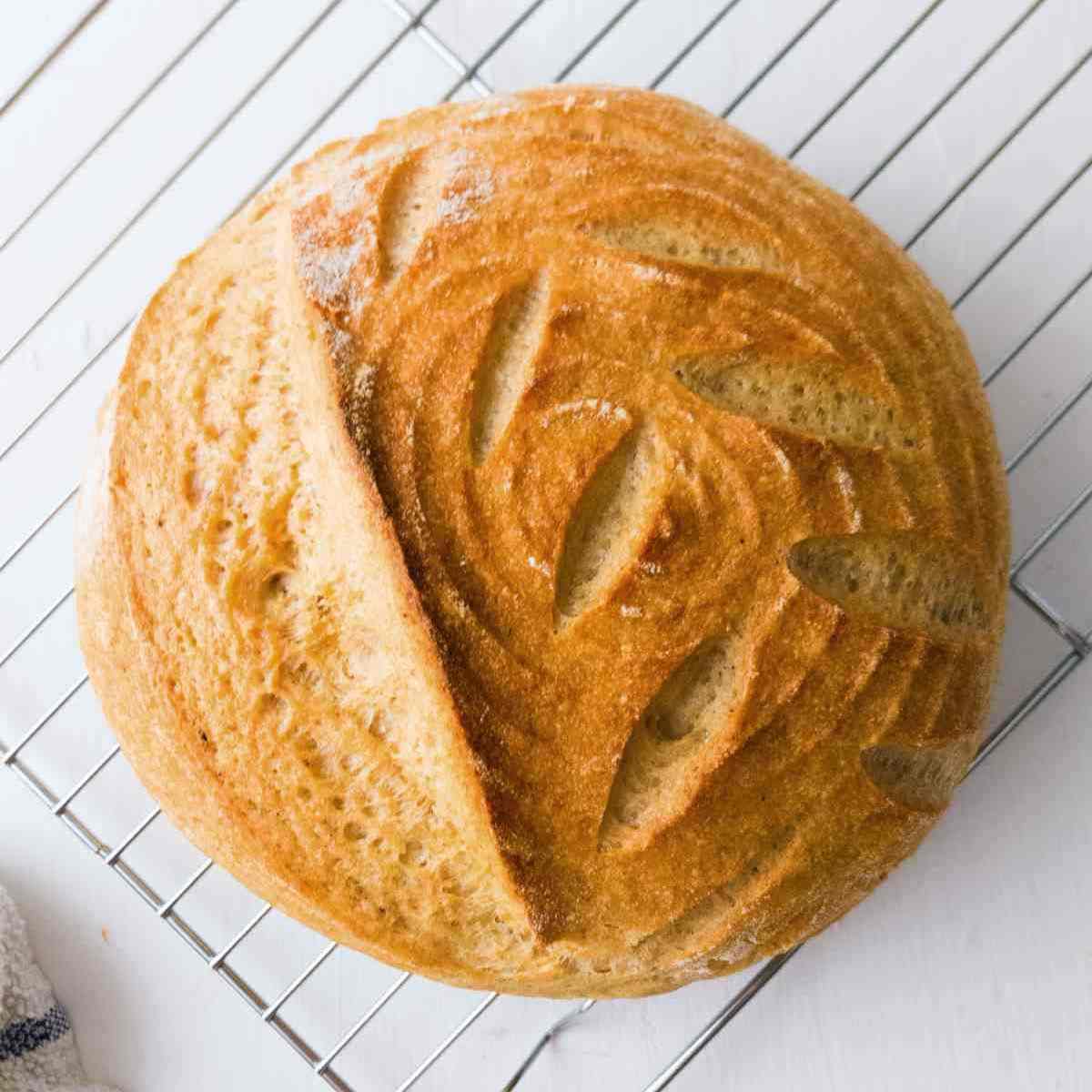 This is my go-to recipe. I make this bread a few times a week for my husband and we love it! You can play around with different types of flour but I normally make this bread using brown rice flour, millet flour, and a couple of starches.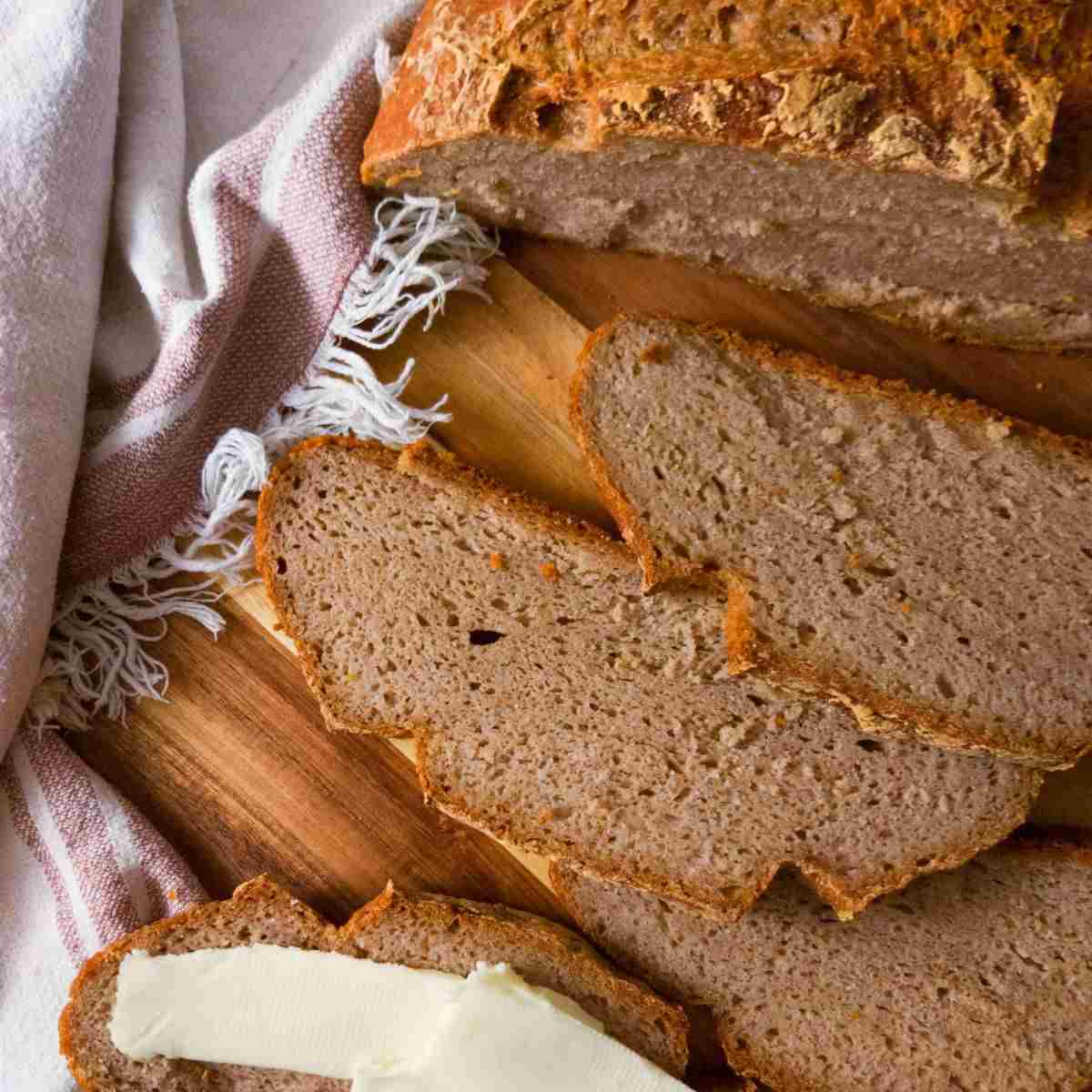 This bread is a little bit darker and has a distinct flavor specific to buckwheat. Buckwheat flour absorbs less liquid than other gluten-free flours so the ratios in this recipe are specifically designed for buckwheat flour loaf.
This recipe is GREAT if you are preparing for a party and want to serve little appetizer sandwiches with some cream cheese and salmon!
This recipe uses preferment instead of a straight-up sourdough starter and calls for sorghum flour along with brown rice flour to create a wonderful texture and flavor for your loaf!
This recipe is a little bit more complicated and requires a bit more work but it helps you get that open crumb everyone is after!
If you are allergic to psyllium husk or can't have it for some other reason, you can try making bread with xanthan gum. This recipe is very simple and straight-forward. Xanthan gum will make for a crumbly bread but it is a good option for those who can't have psyllium husk.
These delicious dinner rolls are soft, fluffy, moist, and flexible, and can be kept for a few days! You can ferment these rolls overnight in the fridge or at room temperature for a few hours.
This bread is on the sweeter side. I made it with a millet starter which is very dry by nature, so if you are using a more hydrated starter, you might need to use less flour in this recipe.
No more dry, crumbly, and stiff flatbreads! This naan bread is super flexible, moist, and soft. You can either ferment them or make them right away.
Gluten-free sourdough bagels are great for sandwiches. I personally prefer cream cheese, avocado, and salmon on mine just as my very first bagel sandwich was! I still remember that little bagel shop in Budapest I had my very first bagel at. Yum!
Join our Facebook Sourdough Baking Community to get help, ask questions, and share success!