Are you excited to eat sourdough again?! Being gluten-free doesn't mean you have to say no to great bread and I am here to prove it to you. This gluten-free sourdough bread recipe is delicious, crusty, soft, and moist! Plus, it is really easy to make. There are a couple of secret ingredients but the most important one is an active sourdough starter made with gluten-free wholegrain flour. Read on!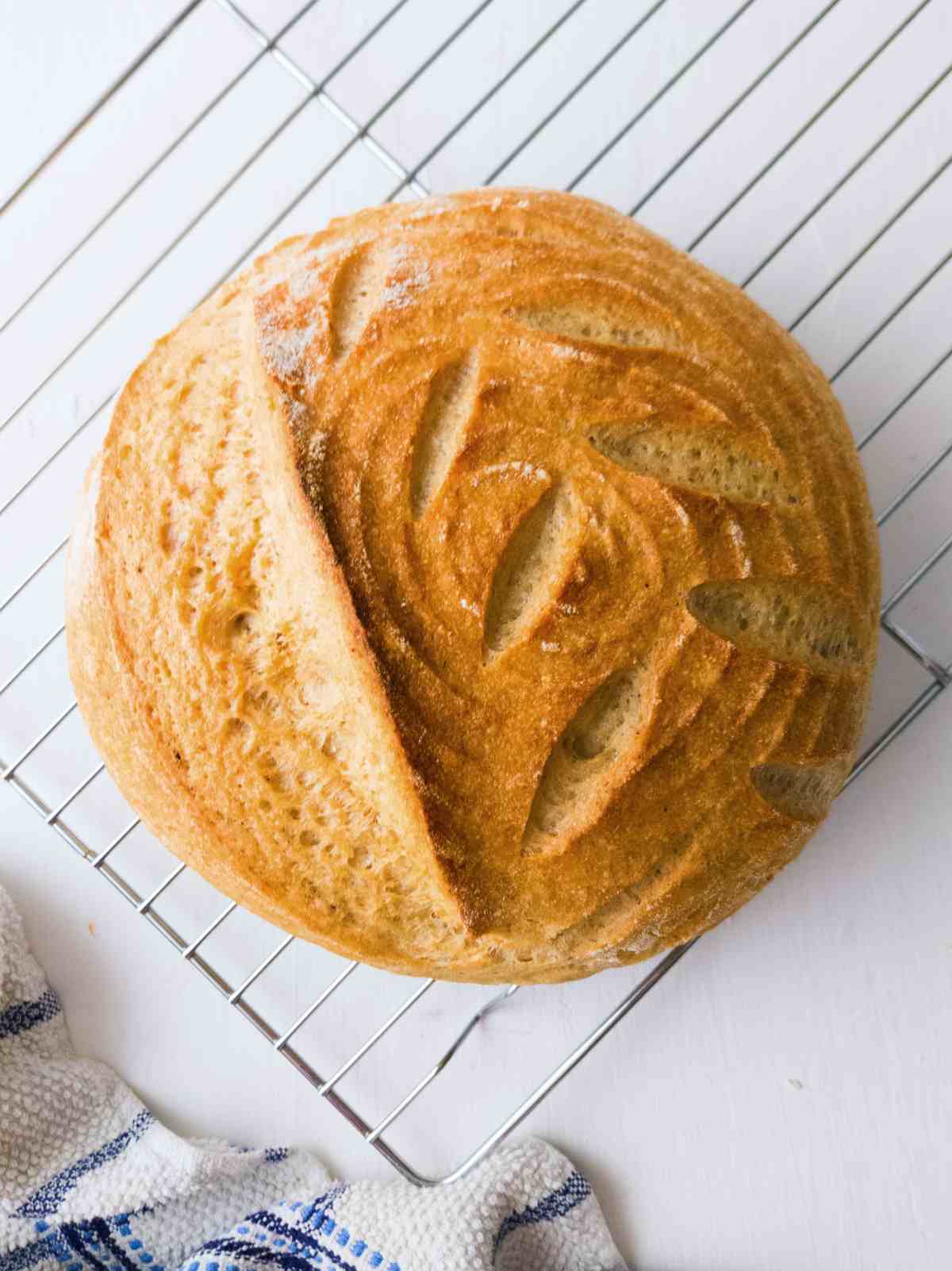 Jump to:
What is Sourdough Bread?
Sourdough bread is bread made with wild yeast instead of the baker's yeast you normally get at a grocery store. Wild yeast is often referred to as sourdough starter which you can grow yourself at home! It is basically flour and water mixed together and left to ferment that allow for yeast and bacteria to develop and eventually leaven your bread. Learn how to make a gluten-free sourdough starter if you don't have one yet!
New to gluten-free sourdough? Watch my tutorial for beginners!
Sourdough vs. Baker's Yeast
Sourdough bacteria are known as lactobacilli, while baker's yeast bacteria are called saccharomyces. The yeast used in baking is created in a lab, and it doesn't have the natural yeast or bacteria that produce the tangy acid found in sourdough. However, this yeast and bacteria work incredibly fast, making it an efficient option for baking. However, it doesn't make the bread easier to digest! For more details check out this sourdough vs yeast article!
So, if you are in for that sour tang in your bread, then you definitely need to grow your own bacteria at home! But if you don't really care for the sour flavor and don't have problems digesting regular gluten-free bread, then you can check out my gluten-free bread recipe with baker's yeast.
Is Sourdough Bread Gluten Free?
If you make it with gluten-free flour and a starter, then yes! But like with any other bread type, if you use wheat flour, your bread will contain gluten.
Gluten-Free Starter
The secret to achieving delightful airy bread lies in one crucial ingredient: an active sourdough starter! Making sure your starter is active is by far the most important part of the gluten-free sourdough baking process. Read more on how to make a gluten-free starter with minimal waste if you haven't yet!
You know your starter is ready for baking once it is at least 10 days old and is showing activity every time you feed it. Bubbles and steady consistent rising are the signs of activity you are looking for! Remember, your starter doesn't need to double in order to be suitable for baking. My starter rarely doubles in size, yet, it raises my bread pretty well!
If you're not baking bread frequently, chances are your starter resides in the refrigerator. To prepare it for baking, I recommend taking the starter out a day earlier and giving it a couple of feedings before you use it in bread. So, let's say you want to bake with it tomorrow, take the starter out this morning, discard about half, and feed it approximately 100g water and 90-100g flour (adjust the water amount based on the absorbency of the flour you use).
Wait for it to come to its peak activity and once it starts falling, you can discard about half and feed it again with about 100g of flour and 100g of water. Once it has risen for the second time, you can now use it in bread. Take 100g of your starter at its peak activity and use it to make levain!
Remember: a starter needs to be at thick-paste consistency. It shouldn't be either too runny or crumbly, otherwise, it won't rise properly.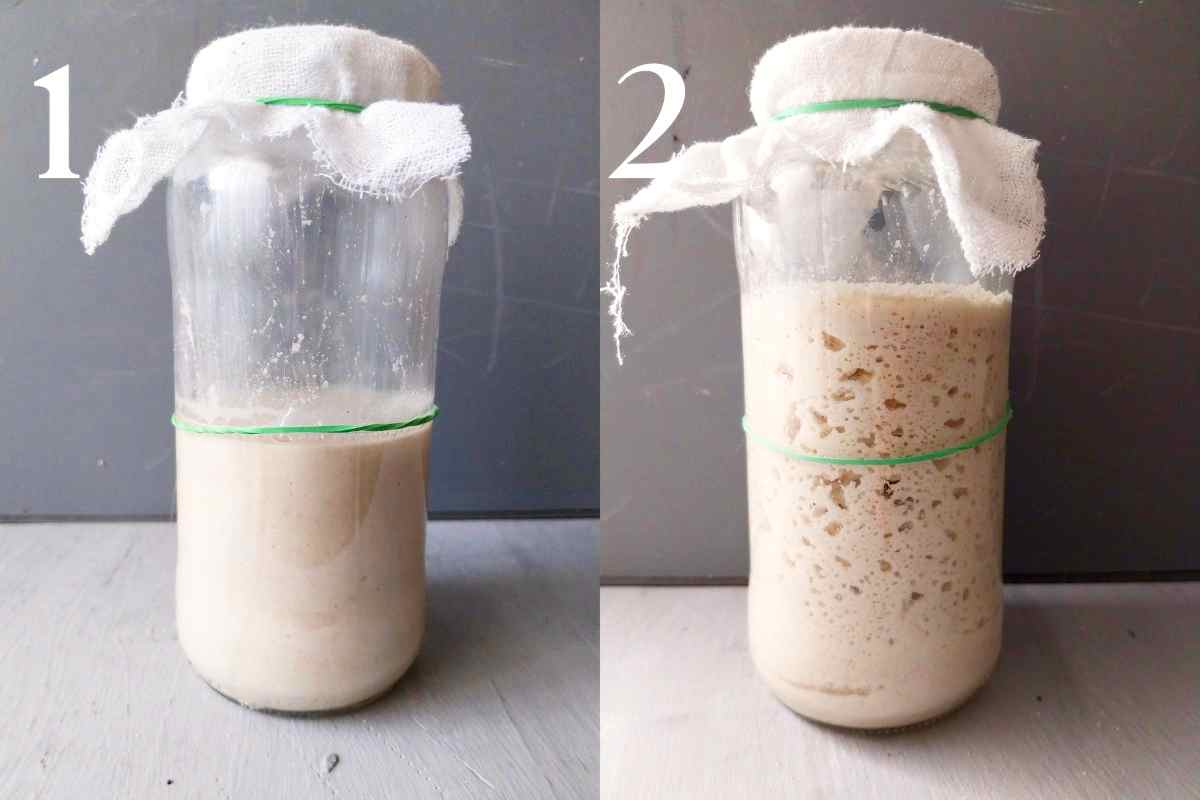 What Is Levain/Preferment?
The concept of levain is something I learned in my early days of baking regular sourdough bread. In order to boost your starter and make sure your bread is the best it could be, you will benefit from making levain which is basically a starter fed at its highest point of rising and left to rise again.
To make levain, you need to take your starter at its peak activity (when it is at its highest rising point) and mix it with flour and water. Then, you let it come up to its peak again, then use it in bread. Pretty simple, huh!
What is the significance of the peak activity stage? At the peak activity point your starter has the maximum number of active bacteria and the fermentation process is at its most vigorous, resulting in a higher concentration of beneficial microorganisms that contribute to the development of flavor, texture, and overall leavening in your bread.
Once the starter starts falling down, some bacteria go into a lethargic state while other starts dying. By using your starter at its peak, you harness the full potential of its active bacteria, maximizing the fermentative power and resulting in a more robust and flavorful levain.
Psyllium Husk
One other very important ingredient in gluten-free baking in general, is psyllium husk. I have an in-depth article dedicated to psyllium husk in baking, so go check that out if you aren't familiar with this wonderful ingredient!
Psyllium husk serves as "gluten" in gluten-free sourdough bread meaning it binds the dough together resulting in a moist and flexible bread that won't crumble the next day after baking!
Some people are allergic to psyllium husk or they can't get it locally, thus a very commonly asked question is can I substitute psyllium husk? The answer is yes and no. To get the same quality sourdough bread, you shouldn't try and substitute psyllium as it is one of a kind. But it is possible to make bread using other binders like xanthan gum and chia or flax seeds. Some people have had their bread smell like fish when using a lot of flax and chia though, so keep that in mind!
If you are planning on using xanthan gum, remember that it will yield a denser loaf that will most probably be crumbly. I personally have not had any success with gluten-free sourdough bread made with xanthan gum yet!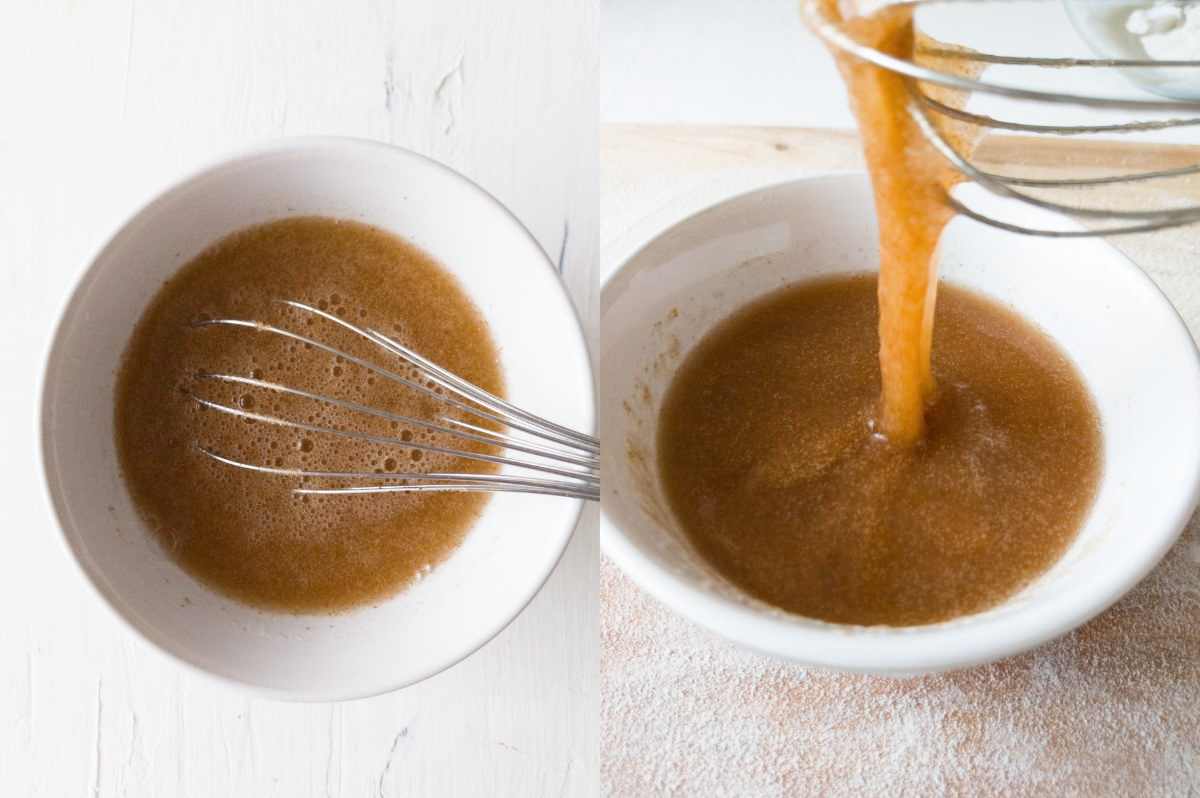 Sourdough Terminology Explained
Sourdough starter – this is the wild yeast that raises your bread. Some people use levain (preferment) in their bread – a mature starter that was fed once again at its peak activity. I don't use preferment in this recipe but I do use it in my buckwheat sourdough loaf.
Proofing – wheat bread has to go through two stages: bulk rise and proofing, while gluten-free sourdough bread often has those two stages combined into one. In this recipe proofing and rising happens simultaneously!
Dutch oven – this is a cast iron pot with a lid that is most often used for baking sourdough. Dutch oven holds and transfers heat very well which allows for an even bake-through. Plus, a Dutch oven traps the steam that escapes from the bread during baking which allows for a significant rise in the loaf.
Banneton basket – this is a basket for proofing sourdough bread. You don't have to use one, you can proof your bread in a mixing bowl lined with a kitchen towel. A banneton basket will shape your loaf better and will allow for more "breathing" of the dough during proofing.
Oven Spring – this is the rising of your bread that happens in the first 20-30 minutes of baking. High temperature makes the bacteria work extra hard and as a result, you have a lot of CO2 being released. Another factor is the steam that is trapped within your dutch oven which also to the rising of the bread.
Scoring – this is the term for slightly cutting the surface of your loaf before putting it into the oven. This slight cut directs the steam to escape through a certain route which allows for a prettier loaf instead of a randomly torn one! To get an "ear lobe" on your loaf you need to score the dough at 45 degrees towards the surface of the loaf.
🍽 Tools You Might Need
- A Dutch oven. You can bake sourdough bread without a dutch oven, too. In that case, you will need to place a tray with water or ice on the bottom of the oven during the first 20-30 minutes of baking to allow for the steam to raise the loaf.
- A digital kitchen scale. When it comes to gluten-free baking, it is important to use exact measurements and a kitchen scale ensures you do exactly that. Gluten-free sourdough bread needs even more precision than regular GF recipes!
- A banneton basket. It is not necessary to use one, you can use a mixing bowl lined with a kitchen towel if you don't have a banneton basket!
- A bench scraper. This tool is amazing when it comes to cleaning up the doughy mess off of the kitchen counter!
The Best Flour for GF Sourdough
When it comes to gluten-free sourdough bread, it can be made with a variety of different flours. You can use brown rice, buckwheat, white rice, millet, sorghum, chickpea, lentil, and other flour types.
I don't recommend using almond or coconut flour as they are very low-carb hence they don't respond to yeast very well. I have a yeast-free almond bread you can try instead.
What you need to remember, however, is that it's not just about using brown rice or sorghum flour alone. You'll also need a type of starch, such as potato starch, cornstarch, tapioca, or arrowroot starch. By combining different flours and starches, you can achieve that perfect bread texture that closely resembles 'regular' bread.
🥘 Ingredients
Millet flour - you can experiment with other types of flour but keep in mind that the amount of water might need to be adjusted as different gluten-free flours have different absorbency levels.
Gluten-free sourdough starter - use a mature starter that is at its peak activity, meaning when it is at its highest point of rising. Check out my gluten-free sourdough starter recipe if you don't have one!
Psyllium husk - you can use whole husks or powder. I prefer baking with whole husks as they are very easy to handle. But if you only have powder, then try avoiding very fine powder and opting for the coarser variety instead. For more information refer to my article about psyllium husk in baking.
Water - use room temperature water for the best results. I use tap water with no problems but if your tap water has chlorine in it, you will need to use filtered or bottled water.
📖 Substitutes
Gluten-free flour types - you can experiment with different types of flour but as I mentioned before, you might also need to adjust the amounts of water in the recipe. If you are considering using buckwheat flour, check out my buckwheat sourdough bread instead!
Psyllium husk - you can use psyllium husk powder. Use 25g of psyllium husk powder instead of whole husks and try avoiding very fine type of powder as it acts differently and clumps in water. For more information read this detailed psyllium husk in baking guide.
Sugar - use the same amount of maple syrup or honey in place of sugar if you prefer.
🔪 Step-by-step instructions
First, we will make the levain/preferment. To make it, you will need 100g of active sourdough starter (at its peak activity), 100g of brown rice flour, and about 100-110g of water. Combine all these ingredients in a medium-sized bowl, stir, scrape the walls of the bowl, and let the levain ferment until it comes to its peak activity. Peak activity means that it is at its highest rising point. Once levain is ready, you can proceed with the next step!
A note on water: if you are using tap water, make sure it doesn't have chlorine, or your levain won't ferment as well. Otherwise, use filtered or bottled water!
Step 2, making the psyllium gel. Combine psyllium husk, sugar, and room temperature/warm water in a medium-sized bowl and set aside, whisk to incorporate, and set aside for a few minutes.
If you are using psyllium husk powder, it might need more time to form a gel (up to 15 min.) In case of using powder, make sure to mix psyllium husk as soon as it hits the water to prevent clumping!
Step 3, mix the dry ingredients. In a large mixing bowl combine all the dry ingredients and whisk to incorporate.
Step 4. Once psyllium forms a gel, add it to the bowl with levain and mix to combine. Then, add apple cider vinegar and sugar to the bowl as well.
Step 5. Then, add the wet ingredients to the bowl with the dry ingredients and either mix with your hands or use a stand mixer.
Step 6. Transfer the dough onto the floured kitchen counter and shape it into a ball.
Step 7. Flour the proofing basket or bowl lined with a kitchen towel and place the dough in it. Make sure to flour it generously! Press the dough into the basket a little bit to create a flat top,
Step 8. Cover the dough with a wet towel and leave to rise for 3-6 hours depending on the temperature in your house. You can check the dough for doneness by poking it. If the dough springs back almost all the way, it is not proofed yet. If the dent in the dough springs back a little but stays visible, the bread is done proofing!
You can also proof the dough in the refrigerator for 12-18 hours. Bake without bringing it to room temperature!
💭 Tips on proofing
Proofing is the stage of making sourdough bread right after mixing the dough. In 'regular' wheat sourdough bread baking, you have two stages before baking: bulk rise and proofing. When it comes to gluten-free bread, the two become one! All you need to do is proof your bread before it hits the oven. This is one of the reasons I love making gluten-free sourdough vs regular bread!
Proofing is when your levain/starter begins working through the dough and creates the CO2 bubbles (carbondioxide) that later contribute to the texture of your bread. It is important to proof your bread long enough and avoid overproofing or underproofind it. Knowing when the dough is ready is tricky, but you will learn how dough behaves in your environment after a few bakes!
Generally, you want to find a warm spot for proofing. It could be inside a turn-off oven with the light on or near a fireplace. If it is hot in your house by default, you can simply proof your bread on the kitchen counter! Another great option is letting the dough proof in the refrigerator. This will take anywhere from 12 to 18 hours and add sourness to your bread.
In the summer my bread needs 3-3.5 hours whereas in winter the process can take up to 6 hours! You know you underproofed your bread if it doesn't have many air bubbles and is dense and gummy after baking.
Overproofing, on the other hand, results in a deflated/sunken loaf. Another sign of overproofing is a large space between the top crust and the crumb along with a gummy bottom!
If you want your bread to be more sour you can add less sourdough starter to the dough and let the dough ferment for longer.
If your starter is young or weak you might need to increase the amount of starter you add to the dough. In that case, you also might need to let the bread proof a bit longer!
Step 9. Once the bread is ready, place the basket (or bowl) into the freezer while the oven is heating up. This will prevent the air from escaping the dough while you do the final shaping. Once the dough is in the freezer, start preheating the oven to 450F/230C with the Dutch oven inside. Let the oven heat for about 20-60 minutes. The longer you heat the oven, the better it will retain heat thus yielding better results!
Step 10. After 20 minutes take the loaf out of the freezer and carefully flip the basket onto your hand. Take the dough and put it on the kitchen table.
Step 11. Then, tack the sides of the dough underneath itself and shape the dough into a tighter ball.
Step 12. Using a razor or a sharp knife score the loaf in any pattern you like. Scoring will direct the steam through the cuts and make the bread look pretty! To get a nice ear lobe on the bread, aim at 45 degrees towards the loaf surface to encourage the ear to form.
Step 13. Place the bread onto a piece of parchment paper and transfer it to the preheated Dutch oven (be careful, it is hot!). Drop a few ice cubes in between the parchment paper and the Dutch oven to create even more steam. Cover the Dutch oven with the lid and place it into the oven. Bake for 30-45 minutes, then take the bread out of the Dutch oven CAREFULLY and place it on the oven rack to prevent the bottom of the bread from burning. Bake for additional 20-50 minutes (depending on how brown you want your crust to be). The inner temperature of the bread should be 210F/100C.
Step 14. Once the bread is baked, transfer it to the cooling rack and let it cool completely before cutting into it!
Troubleshooting
My Bread Is Too Gummy
Gluten-free bread is gummier than regular bread in general but there are ways to make it less gummy! One of them is baking your bread long enough. Don't be afraid to let the bread darken! If you don't like a strong crust, take your loaf out of the Dutch oven after you take the lid off and cover the top of the bread with foil, this will still let the steam escape at the bottom while protecting the top from hardening too much.
Another tip is to reduce the amount of water you add to the dough. It might inhibit the rise of the loaf though, so use your best judgment based on the results. If you are using a premade store-bought gluten-free blend with xanthan or guar gum added, the gumminess might be the result of too many binders in the dough.
Too Dense
To make your loaf less dense you need to make sure your starter is very active and that you use the preferment at its peak activity. Underproofing could also be the reason for a dense loaf! If you think you followed the recipe and your bread is still too dense, add a couple of grams of yeast to the bread to help the bacteria.
One of my favorite tips on how to make your loaf rise and thus be less dense is to put ice cubes in between the Dutch oven and parchment paper right when you put the dough in! This will create the steam your bread needs to rise better.
Other Questions
Check out this gluten-free sourdough FAQ post and see if you can find an answer to your questions! If you want to read another perspective on gluten-free sourdough bread, check out this wonderful article by George Eats! To make a sourdough starter, definitely go to my gluten-free starter 101!
Frequently Asked Questions
Why is My Starter Not Doubling in Size?
Gluten-free sourdough starter doesn't need to double in size before baking bread. It is normal for gluten-free starters to rise 0.5 times instead of doubling like wheat starters do. Your gluten-free starter might double in size if you feed it often, give it whole grain flour, and keep it in a warm spot but doubling is not necessary for baking bread!
Is Gluten-Free Sourdough Bread Vegan?
Yes, it is!
Can I Use a Pre-Made Blend?
You can try but it is not recommended. The texture is not the same and it might turn out gummy and dense. However, there are people who are able to make bread with those blends!
More Gluten-Free Sourdough Recipes to Try
I absolutely love this gluten-free dinner rolls recipe because the rolls turn out SO soft that you couldn't tell they are gluten-free! These cinnamon rolls are also a hit. Gluten-free cookies with sourdough is another great recipe for you to try!
For more savory recipes, try this gluten-free pizza crust made with sourdough! These bagels are a great base for sandwiches (cream cheese and avocado are my favorite bagel sandwiches!!), then there are these soft pretzels that will be a hit at any get-together (make sure to make a cheese sauce!).
For appetizers, I recommend making this French bread with sourdough and serving mini-sandwiches with some cream cheese and salmon!
If you are looking for recipes to use your discard in, then check out my delicious gluten-free muffins with discard, the best flatbreads you will ever have, fluffy discard pancakes, and banana bread,
Get my Gluten-Free Sourdough E-Book today!
📖 Recipe
Gluten Free Vegan Sourdough Bread
This delicious gluten-free sourdough bread is fail-proof, easy to make, and is full of flavor!
Equipment
Micing bowls

1 proofing basket/bowl

kitchen towels
Ingredients
Levain/Preferment
100

grams

sourdough starter

preferably at its peak activity

100

grams

brown rice flour

120

grams

warm water

not hot
Dough
22

grams

psyllium husk

whole husks, if using coarse powder use 20 grams, fine powder - 17g. For more details check my psyllium husk 101 article

280-300

grams

water

room-temperature

10-20

grams

sugar/maple syrup

for bacteria

10

grams

apple cider vinegar

to help bacteria activate better

75

grams

tapioca starch

or arrowroot starch

75

grams

cornstarch

or potato starch

75

grams

brown rice flour

75

grams

sorghum flour

12

grams

salt
Instructions
Prepare the Levain
First, to make levain, mix 100g of mature starter with 100g flour and 120g water. Let it sit for 3-6 hours until it gets to its peak activity. Preferably, use the levain before it starts falling down.
Prepare the Dough
Once levain is ready, mix psyllium husk, water, sugar, and apple cider vinegar in a large mixing bowl. Once psyllium husk comes in contact with water, start whisking to prevent lumps. Let the mixture sit for a couple minutes while you are mixing the flours.

In a large mixing bowl, add all the flours, starches, and salt and mix to combine.

By now psyllium gel should have formed! Add the dry and wet ingredients together and mix to incorporate. You can use your hands or a mixer with a dough hook.

Once the dough is well incorporated, transfer it to a floured working surface and preshape it into a round boule. Dip the top in sesame seeds spread on a plate for extra flavor!
Proofing
Note: You will need a banneton basket or a mixing bowl lined with a kitchen towel for this step.

Flour the basket or the towel within the mixing bowl very well to prevent sticking. Then transfer the preshaped loaf into it. Cover with a kitchen towel and leave to ferment. It will take 3-6 hours at room temperature or up to 18 hours in the refrigerator. The dough should rise some but not double in size.

Note: if the loaf rose during baking but deflated once you took it out, it is due to overproofing
Bake
Start preheating the oven to 450F/230C preferably 30-60 minutes before the proofing is done. Some ovens take up to 1 hour to heat through! Make sure to place the Dutch oven inside the oven for the preheating stage.

Note: most ovens run hot or cold, thus it is best to get an oven thermometer to ensure correct temperature.

Once the oven is ready, take the dough carefully and turn it over onto a piece of parchment paper. Score the dough with a sharp razor or a knife. Scoring means cutting into the surface of the dough to direct the steam. If you don't score the loaf, it will have a torn look after baking.

If you were proofing your loaf in a banneton that is too big, you might need to preshape the dough once again by tucking the sides of it under itself but make sure to do it as carefully as you can to avoid deflating the dough.

Place the dough into the Dutch oven, close the lid, and bake for 30 minutes. After 30 minutes reduce the temperature to 400F/200C, take the bread out of the Dutch oven and place it on the baking rack, and continue baking for 50-60 minutes depending on how crusty you want it to be.

Tip: your bread is done when the inner temperature reached 210F/100C.
Cooling & Storing
Once the baking is over, place the bread onto a cooling rack. If you want the crust to be softer, wrap the loaf in a kitchen towel 30 minutes after baking.

Let the bread cool completely before slicing it.

Keep the bread covered at room temperature for 4-5 days or slice & freeze it for up to 3-4 months. To defrost, simply place the slices in a microwave for 30-60 seconds.
Notes
- Use room temperature water to help the sourdough starter do its job!
- Keep the dough in a warm spot during proofing. Start checking on the dough after 3 hours of proofing. If it passes the poke test, it is ready for baking!
- For a more sour loaf proof the dough overnight in the refrigerator. Overnight means about 12-18 hours.
- Freezing the dough before the final shaping ensures the bubbles don't pop and the loaf doesn't fall flat during baking. I learned this wonderful tip from Gina Kelley!
- Adding ice to the dutch oven helps with the rising of the bread by creating extra steam! I learned this tip from Shay. I use an enameled Dutch oven, so the water doesn't come in contact with cast iron in my case, but if your Dutch oven is not enameled, you might need to be careful with the ice as water tends to rust cast iron.
Nutrition
Serving:
4
slices
Calories:
467
kcal
Carbohydrates:
107.7
g
Protein:
5.9
g
Fat:
2.3
g
Saturated Fat:
0.2
g
Sodium:
1574
mg
Potassium:
235
mg
Fiber:
10.3
g
Sugar:
6.5
g
Calcium:
11
mg
Iron:
3
mg