These gluten-free sourdough chocolate chip cookies are so good I might have eaten too much while testing this recipe! Soft and nutty, these cookies literally melt in your mouth. You can make them with gluten-free sourdough starter discard!
These delicious gluten-free sourdough cookies are made with brown butter, gluten-free flour, eggs, and a few other ingredients that make them so soft and airy! You can make substitutions if you are looking for dairy-free or vegan gluten-free cookies and still have them turn out amazing. This is a great recipe for using your gluten-free sourdough starter discard while you are growing it to be able to bake a loaf of gluten-free sourdough bread!
Jump to:
New to gluten-free sourdough? Watch my tutorial for beginners!
What is Sourdough Discard?
Sourdough discard is the excess sourdough starter that you need to get rid of every time you feed it. If you don't have a sourdough starter you can easily make one with only water and flour! Here is a recipe for a starter with brown rice flour.
Or you can also make this cookie recipe without the discard. If you are into sourdough, check out my gluten-free sourdough discard cinnamon rolls, soft and moist banana muffins, or sourdough discard banana pancakes! For similar recipes, check out my collection of sourdough discard recipes.
Ingredients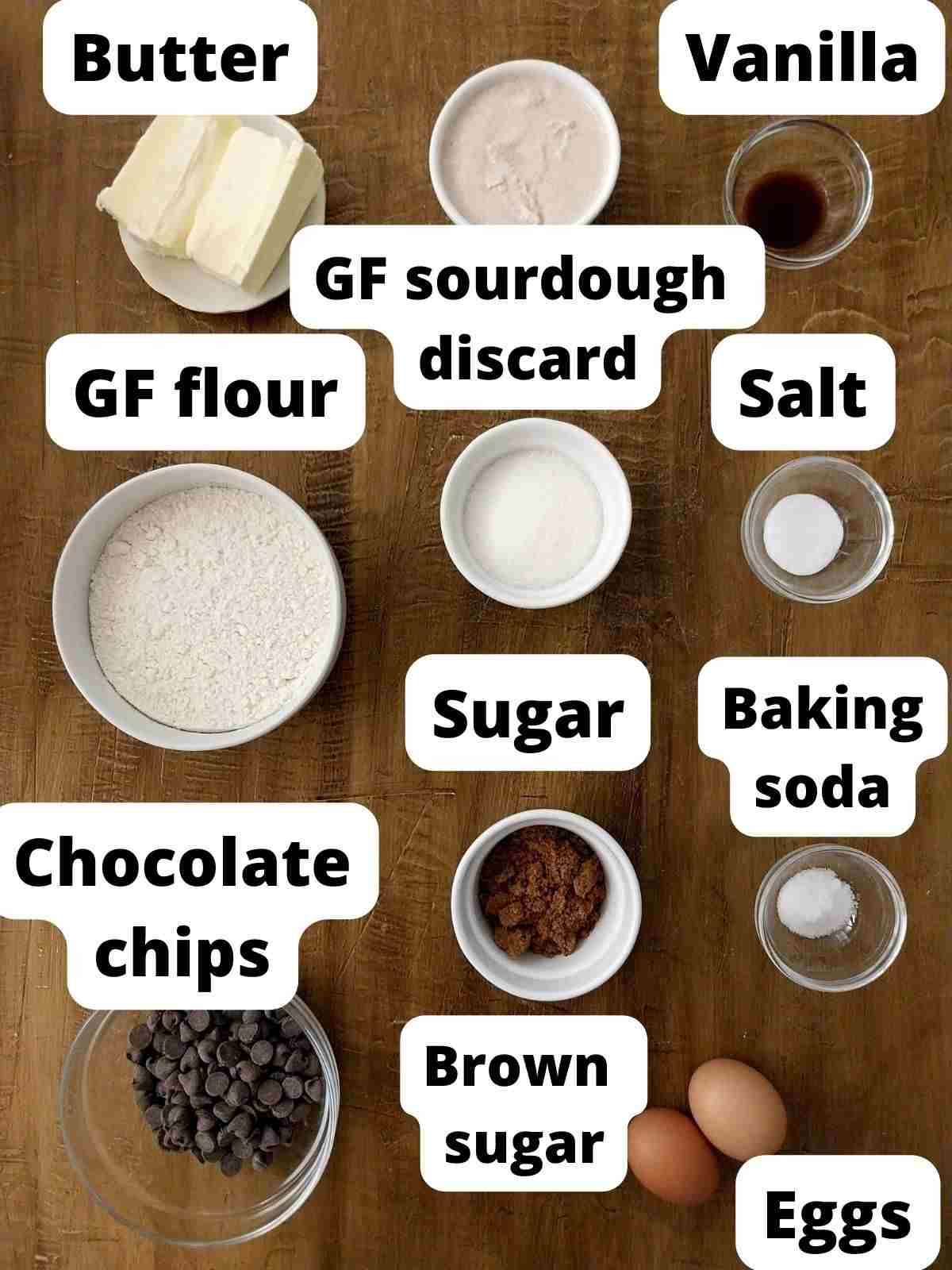 Gluten-Free Flour – I like using homemade blends as they are cheaper and customizable. Here is my gluten-free blend without rice, and here is a blend that uses brown and white rice flours. I provide more exact ingredients in the recipe card at the end of the page! You can also use all-purpose gluten-free 1:1 flour!
Butter - butter adds softness and chewiness to the cookies. I like to brown my butter to add a nutty flavor to the cookies!
Gluten-Free Sourdough Discard - you can use either the discard from the fridge or the one you have on the counter. If you don't have a starter yet, check out my guide for how to make your own starter at home!
Sugar - I like to use both brown and white granulated sugar to ensure both the softness and crispness of the cookies. Plus, brown sugar adds a special flavor to the dough!
Eggs - they add structure to the cookies and make them moister and softer!
Vanilla extract - I like to use pure vanilla extract to have the best vanilla flavor I can possibly get. Cheap versions sometimes only harm your cookies instead of elevating the flavors!
Salt - you would think a dessert doesn't need salt! But it does! Salt elevated the sweetness of the cookies.
Baking soda - baking soda ensures the cookies spread during baking.
Chocolate chips - you can use either semi-sweet, dark, or even white chocolate chips! They add a wonderful flavor to the overall taste.
Sourdough discard does NOT make your cookies sour! It just makes them softer.
Note: if you like gluten-free chocolate chip desserts, check out my gluten-free chocolate-filled pancakes!
Substitutes
Butter - for a dairy-free version, you can use vegan butter or coconut oil, although I did not test this recipe with those ingredients!
Eggs - for a vegan version you can try substituting the eggs with chia or flax eggs, although, again, I have not made these cookies with those vegan substitutes.
Step-by-Step Instructions
STEP 1 - brown the butter
To brown the butter, first, start melting it over low-medium heat in a small saucepan. Use a rubber spatula to move the butter around as it melts to prevent burning.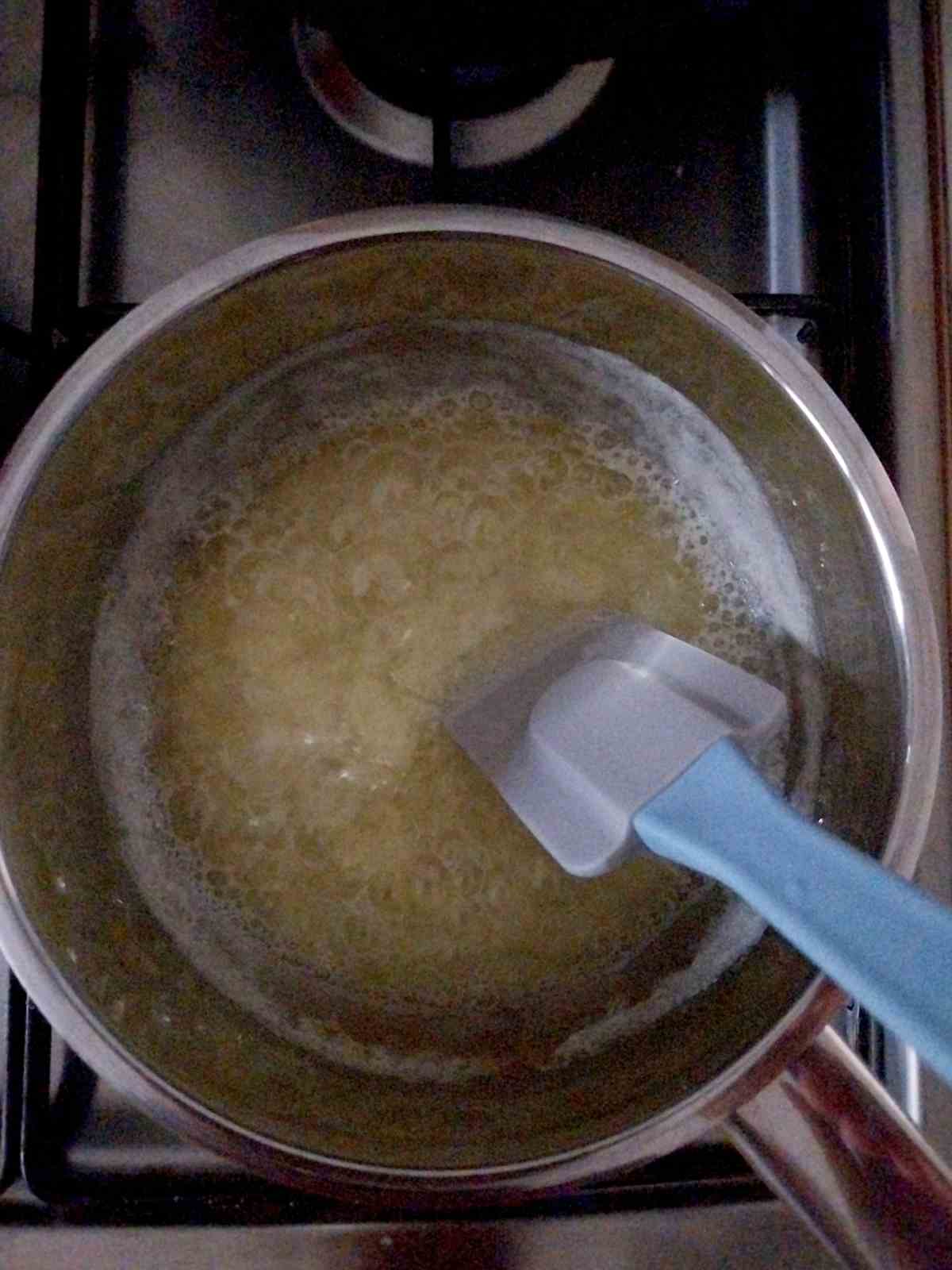 When the butter starts bubbling you need to start stirring continuously to prevent burning. If the butter starts foaming and you can't see the color of it, turn down the heat until you can see the color of the butter. It is easy to burn the butter at this stage.
Once the butter starts looking brown take it off the fire and continue stirring for half a minute. Cool the butter before going forward to prevent the eggs from curdling.
STEP 2 - mix the dough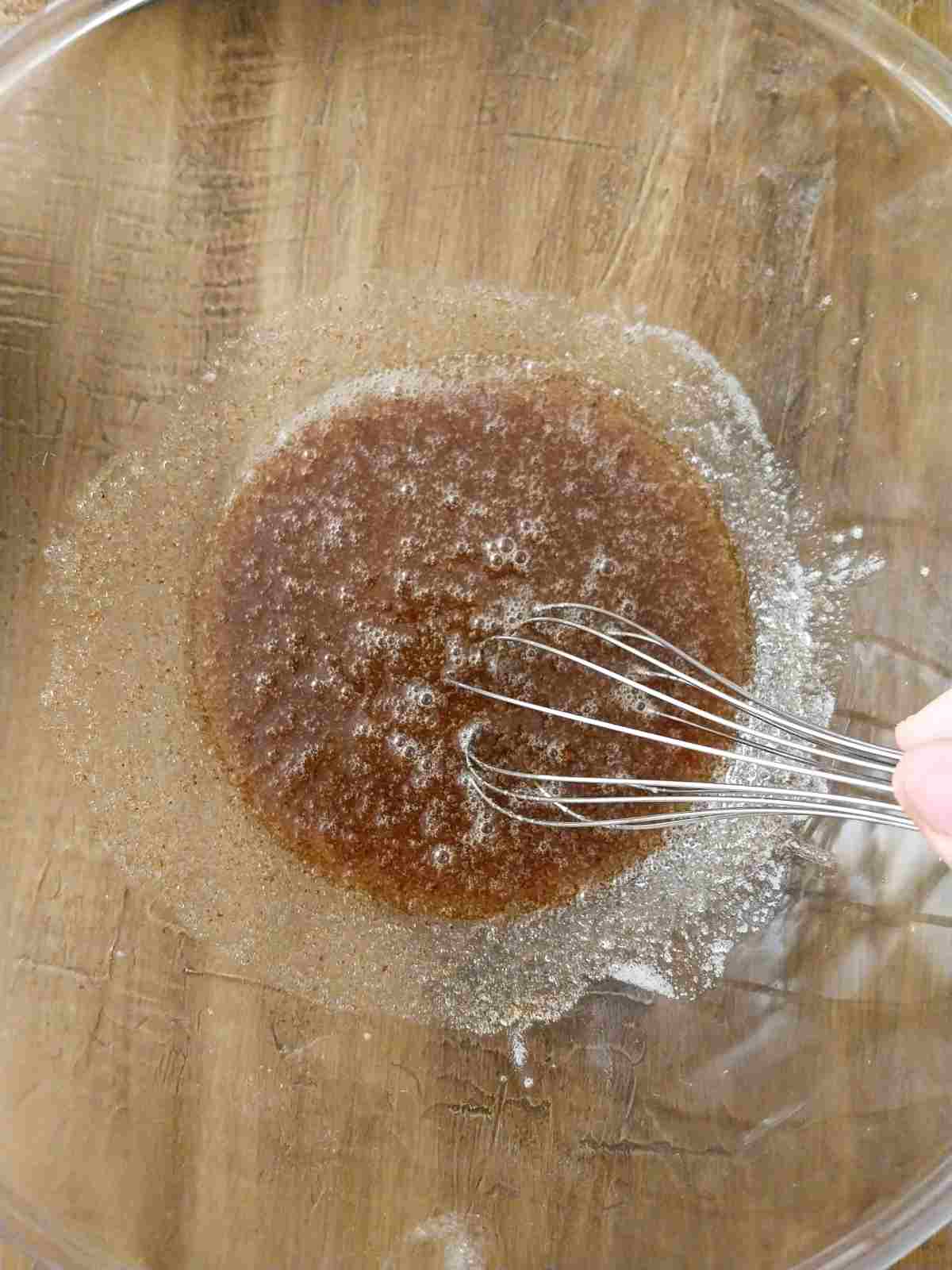 Add the sugars to the butter and mix until incorporated.
Add the eggs and mix until incorporated.
Add the sourdough discard and mix until combined.
Add the dry ingredients and mix until all flour is incorporated.
Add the chocolate chip and fold with a rubber spatula until incorporated. Let the dough sit for at least 20 minutes to let the liquids absorb.
STEP 3 - bake the cookies
Preheat the oven to 350F/175C and line the baking tray with parchment paper. Then, start forming small dough balls with your hands, or use an ice cream scooper to scoop the dough. Place the balls onto the baking tray lined with parchment paper. Then, press the dough down with a fork and decorate it with chocolate chips on top. Finally, bake the sourdough cookies for 11 minutes at 350F/175C, then take the cookies out and let them sit for a few minutes before transferring them onto a cooling rack or a plate. Enjoy!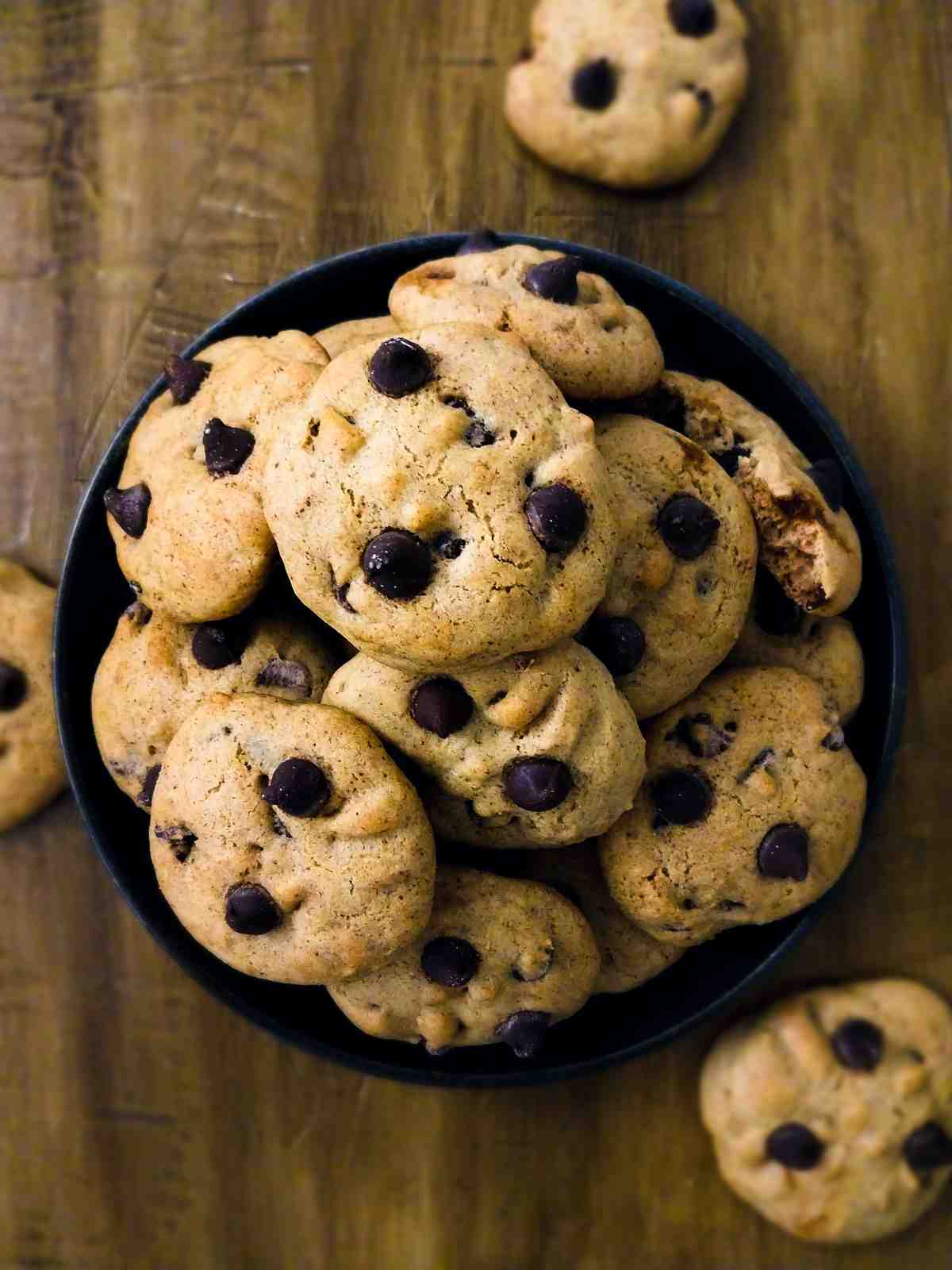 Expert Tips
- Use a kitchen scale for accurate measuring!
- Use room temperature egg and butter. If you forgot to take the ingredients out, you can place eggs in hot water and cut the butter into cubes. Then, leave both to sit for 10 minutes.
- Chill the dough! Gluten-free flour will change its consistency after 20 minutes of rest.
- Use an ice cream scooper to have all cookies the same size as it will ensure even baking. However, you can shape the cookies with your hands, too.
Variations
- Add dried fruits or nuts. You can add raisins, cherries, cranberries, pecans, walnuts, or almonds!
- Use different chocolate chip types. You can use either dark, semi-sweet, or white chocolate chips, or you can mix a few types for more flavor!
- Add spices. A pinch of cinnamon, ginger, or nutmeg will make your cookies perfect for a Fall coffee date!
- Make them dairy-free or vegan with a couple of simple substitutions! Read the substitutes section for more details.
Serving Suggestions
- Serve them as an afternoon snack! This way you both use your starter discard AND provide a fun snack for your family and friends.
- With a cup of tea or coffee. This way you can substitute sugar in your tea and enjoy a delicious gluten-free snack!
- As an element on the dessert platter. Impress your guests with a dessert no one will be able to tell is gluten-free!
- With ice cream! Did you know you only need 2 ingredients and about 20 minutes of hands-on time to make your own homemade ice cream WITHOUT a machine?!
- Add them to a milkshake! Simply crumble the cookies into a milkshake and elevate the experience to a restaurant level!
- Make them into a gift. Get some paper boxes in a baking store and use them for packing your gluten-free creations as gifts! Homemade gifts communicate your care and love for the person like nothing else.
Storing
Keep these gluten-free sourdough cookies in an air-tight container. They will keep at room temperature for 3-4 days, in the refrigerator for up to a week, and for 2 months if you freeze them! To defrost, simply pop them in the microwave for 30-60 seconds until soft and warm.
Frequently Asked Questions
What is the Best Flour to Use for Gluten Free Cookies?
I like the mix of brown rice flour, white rice flour, potato starch, and tapioca starch. However, you can use any premade gluten-free flour mix as well!
How to Make Gluten-Free Cookies Moist?
You can add more milk, sour cream, or yogurt to the dough to make your gluten-free cookies a bit moister. However, I find that these cookies are just the perfect texture!
Do Gluten-Free Cookies Need Xanthan Gum?
Yes, you need xanthan gum, guar gum, or psyllium husk to keep cookies in one piece. I like using psyllium husk powder for cookies. If you are using a premade gluten-free blend, it most likely already contains some type of binder. If it doesn't then you need to add it to the recipe!
Get my Gluten-Free Sourdough E-Book today!
📖 Recipe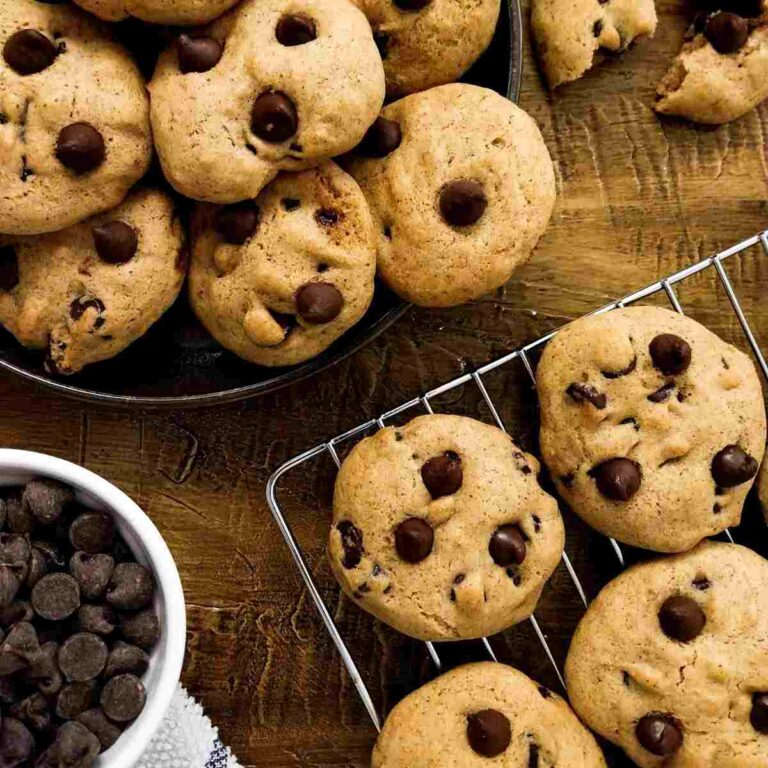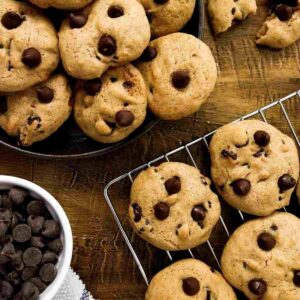 Gluten Free Sourdough Chocolate Chip Cookies
These cookies are extra soft and flavorful because of the nutty flavors of brown butter along with the rich depth of brown sugar.
Ingredients
250

grams

(2 cups) gluten free flour

I used my potato free blend which for this recipe would be: 63g brown rice flour, 62g white rice flour, and 125g starch of choice (cornstarch, tapioca, arrowroot, or potato starch).

1

teaspoon

xanthan gum

skip if your blend already contains it

1

teaspoon

baking soda

1

teaspoon

salt

120

grams

(½ cup) unsalted butter

room temperature

100

grams

(½ cup) white sugar

50

grams

(¼ cup) brown sugar

light or dark

2

eggs

room temperature

1

tsp

pure vanilla extract

180

grams

(½ cup) gluten free sourdough starter

fed/unfed/discard from the fridge

150

grams

(1 cup) chocolate chip

plus some for decorating the cookies before baking
Instructions
Place the butter into a small saucepan and start heating over low-medium heat. Use a rubber spatula to move the butter around the prevent burning. Once the butter starts bubbling start stirring consistently and once the butter starts to look brown turn off the heat and continue stirring for half a minute.

Add the sugars to the chilled brown butter and mix with a wisk until combined. Add the eggs with vanilla and wisk until incorporated. Then, add the sourdough starter discard, and mix to incorporate. Finally, add the dry ingredients (flour, baking soda, and salt) and mix until the dough comes together. Then, add the chocolate chips and fold the dough with a spatula to incorporate them.

Chill the dough for 20 minutes. Preheat the oven to 350F/175 degrees in the meantime.

Shape the dough into small-medium size balls, place them onto a baking tray lined with parchment paper, and press them down with a fork. Then, decorate the dough with chocolate chips. Bake for 11 minutes, then take the cookies out and chill them for a few minutes before transferring onto a plate or a cooling rack. Enjoy!
Notes
Use a digital scale for accurate measuring;
Be careful with browning the butter as it can burn very quickly;
Rest the dough for 20 minutes before baking so that the liquids get absorbed better;
Dip the fork into the water to press down the cookies to avoid sticking;
Nutrition
Serving:
1
cookie
Calories:
119
kcal
Carbohydrates:
17.1
g
Protein:
1.2
g
Fat:
5.2
g
Saturated Fat:
3.2
g
Cholesterol:
21
mg
Sodium:
32
mg
Potassium:
43
mg
Fiber:
0.5
g
Sugar:
7.7
g
Calcium:
14
mg
[convertkit form=2984496]