This gluten-free rice-free flour mix is perfect for pancakes, muffins, pizza, soft pretzels, bread, and many other recipes!
Jump to:
The Need for a Rice-Free Blend
Rice flour is one of the most commonly used flours in gluten-free baking, so gluten-intolerant people end up eating a lot of it! As research about arsenic in rice emerged, people started being more cautious about eating excessive amounts of rice as this research suggests that varying your diet is better for you. This gluten-free flour blend contains millet flour, lentil flour (or substitutes), and starches and works great in almost any gluten-free recipe! I have tested many of my recipes with this blend and so far all of them turned out great!
Ingredients
Millet flour - this flour makes your gluten-free baked goods light and fluffy. A great flour for making flatbreads and bagels! I don't recommend substituting this flour in the blend.
Lentil flour - you can use sorghum flour, gluten-free oat flour, or white teff flour instead. You can also make your own red lentil flour at home!
Cornstarch - use potato starch, arrowroot starch, or more tapioca starch instead!
Tapioca starch - can be substituted with cornstarch, potato starch, or arrowroot starch.
How To Make Rice-Free GF Flour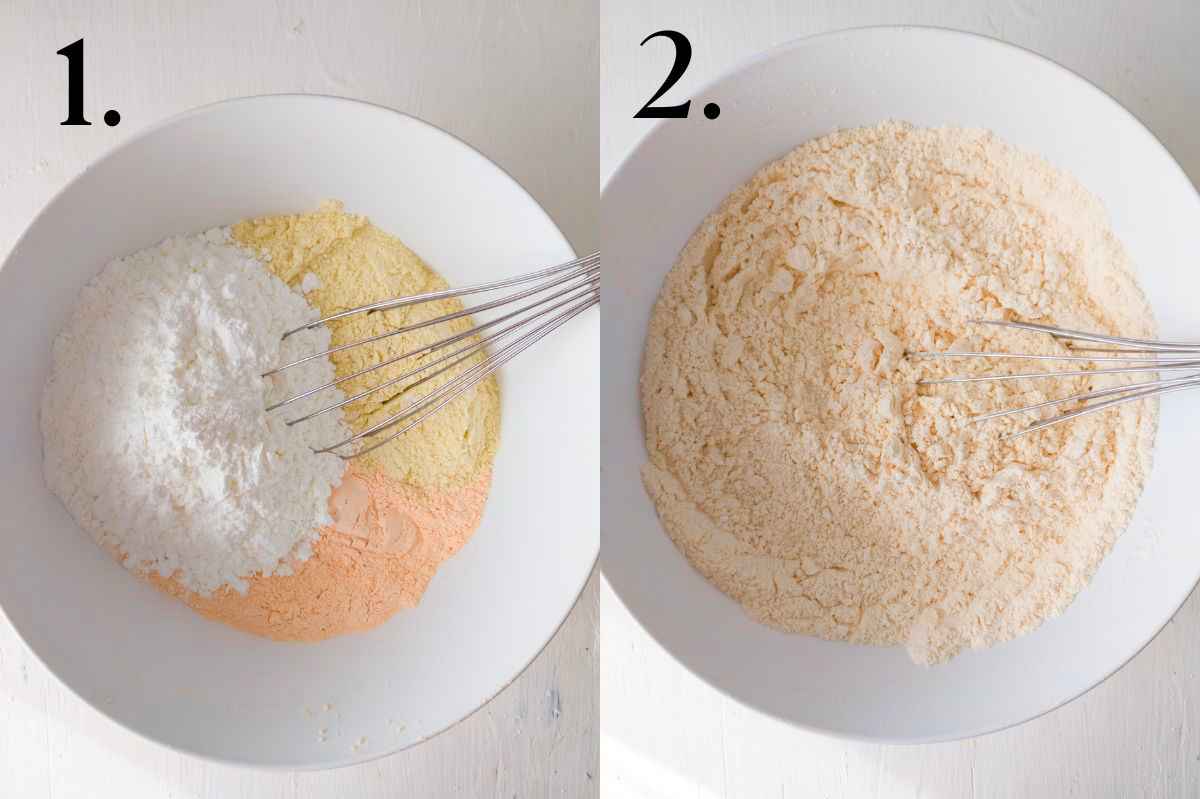 Add all the ingredients to a large mixing bowl and mix the flour very well using a whisk before transferring it to a storage jar. Store in a glass jar that seals very well. The flour should keep for a few months at room temperature!
Why Is There No Xanthan Gum In This Blend?
Different recipes call for a different amount of xanthan gum, plus, some recipes don't call for it at all. Thus, you can adjust the amount of xanthan gum to the recipe's needs! I recommend always adding as much xanthan gum as a specific recipe calls for.
Where to Buy Flours for This Blend
If your local stores don't carry these flour types, try local online stores with delivery as they might have cheaper options. Unfortunately, Amazon doesn't have a lot of GF flour choices, so the best would be for you to find some local company that sells these flours and order from them. As all of us are from different parts of the world, I am not able to provide the right store for you in your location. You can try reaching out to people in Gluten-Free Facebook groups who live in close proximity to you!
Recipes to Make with It
You can use this flour to make this gluten-free artisan bread recipe, this gluten-free Turkish bread recipe, this gluten-free Greek Easter bread, and even these breaded gluten-free, dairy-free pork chops!
📖 Recipe
Gluten-Free Rice-Free Flour
Ingredients
410

grams

(3½ cups) millet flour

140

grams

(1 cup) red lentil flour

1 cup sorghum, gf oat flour, or white teff flour can be used instead

300

grams

(2½ cups) cornstarch

1½ cups potato starch, arrowroot, or 1⅘ cups tapioca starch can be used instead

150

grams

(1 cup) tapioca starch

1¼ cup cornstarch, ¾ cup potato starch, or arrowroot starch can be used instead.
Instructions
Mix all the ingredients very well in a large mixing bowl, then transfer to a storage jar. I recommend using a glass jar that seals very well. Store for up to 2-3 months at room temperature.
Notes
DISCLAIMER: I strongly recommend using a digital kitchen scale to measure your flour for this recipe as cup measurements are not always precise. 
Nutrition
Serving:
100
grams
Calories:
370
kcal
Carbohydrates:
79.6
g
Protein:
8.4
g
Fat:
1.9
g
Sodium:
4
mg
Potassium:
312
mg
Fiber:
8.2
g
Sugar:
0.8
g
Calcium:
11
mg
Iron:
5
mg