The best way to take your cooking to the next level is to stock up on some great homemade savory sauces. This ultimate collection of delicious savory condiments will provide you with the best ideas on how to add more flavors to your food (pair them with these simple tray bake dishes).
Jump to:
1. Homemade 5 Minute Ketchup Recipe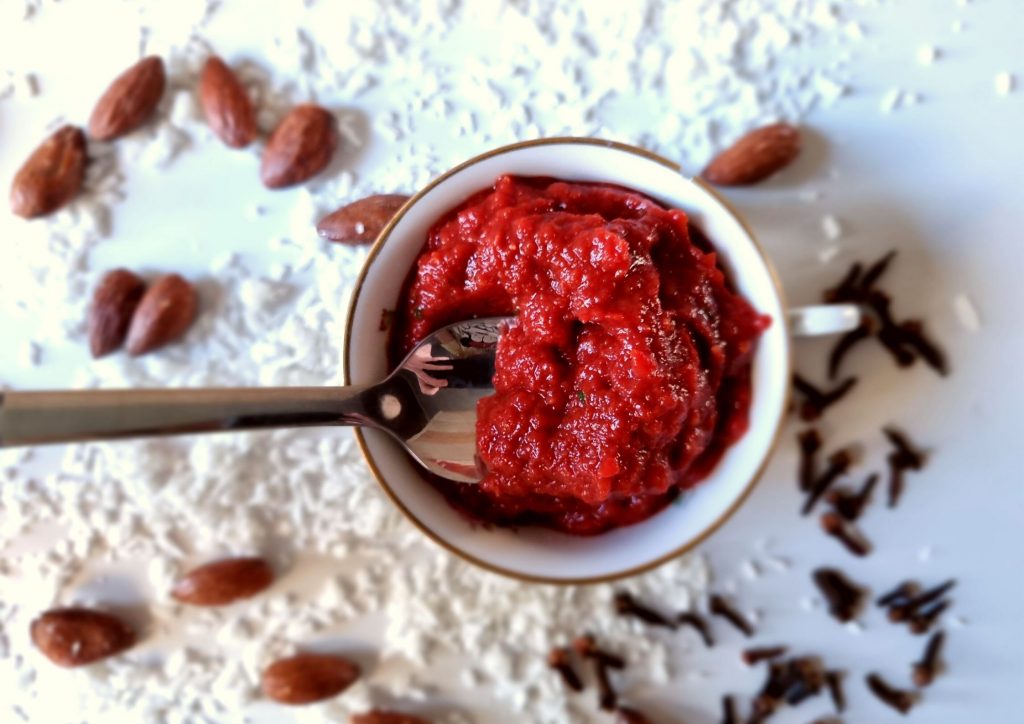 Quick and easy ketchup substitute for a meatloaf recipe or a quick side for your french fries! A healthy ketchup recipe.
---
2. Tomatillo Red Chili Sauce Recipe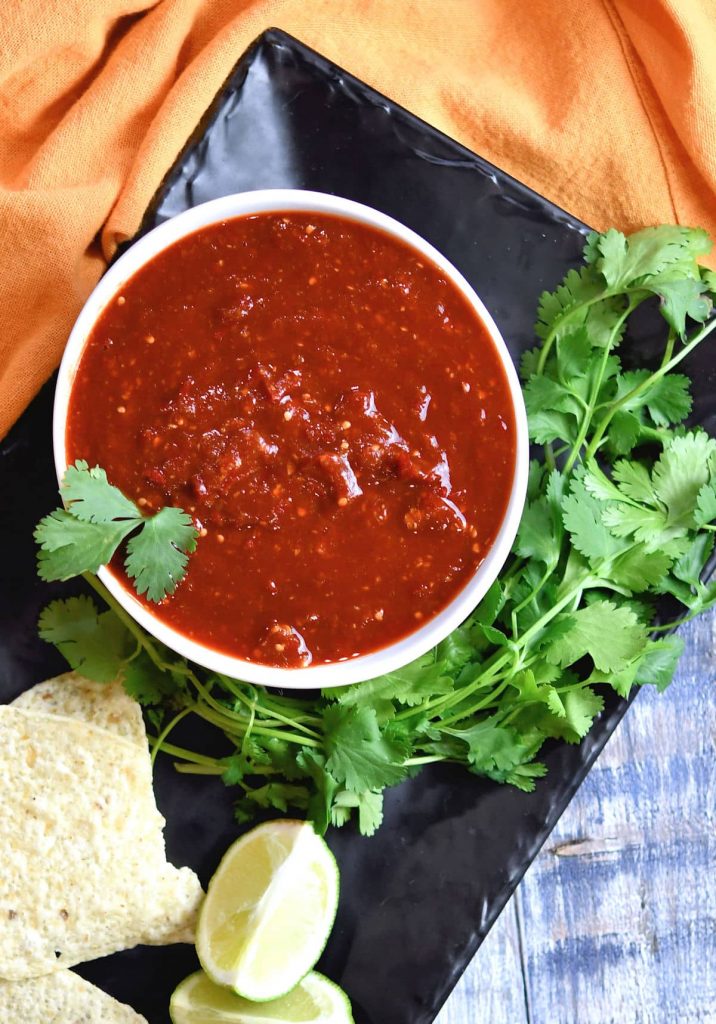 Take your dishes to the next level with this delicious Tomatillo Red Chili Sauce that only takes 45 minutes to make! Once you try it homemade, you will never go back to the store bought type.
---
3. No Fail Homemade Mayonnaise (2 Minute Recipe)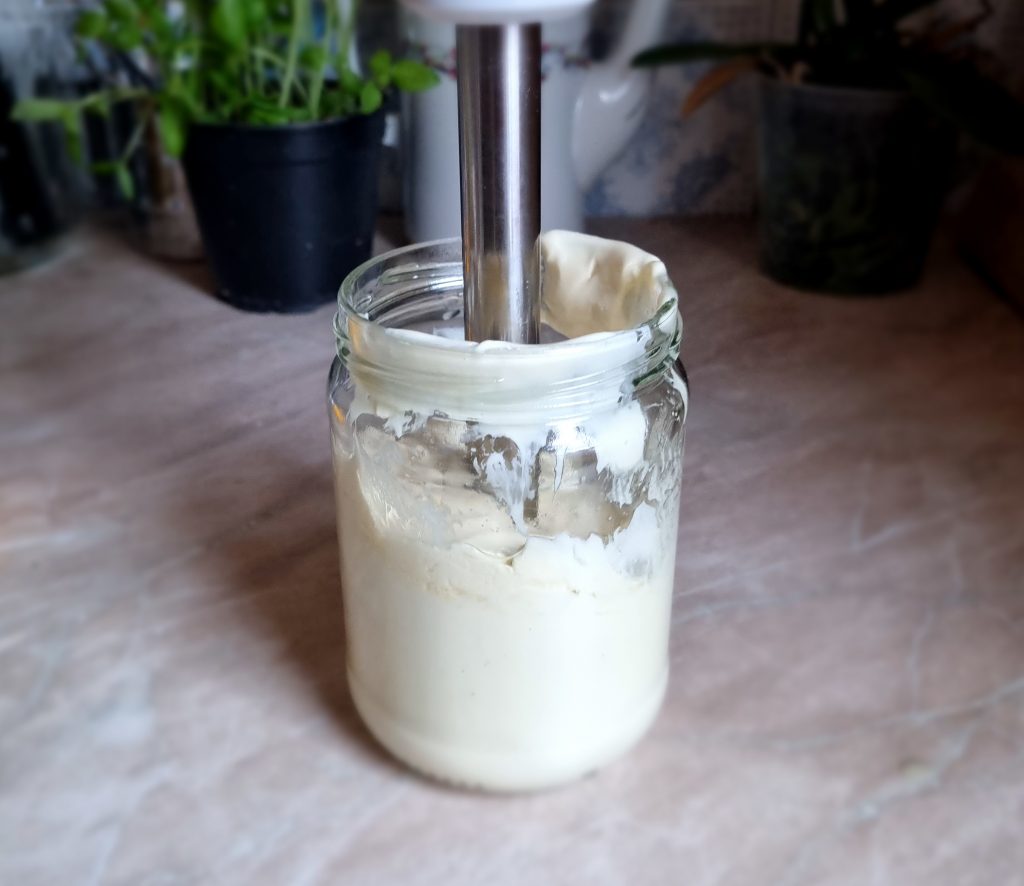 Have you ever found yourself cooking and realizing you ran out of mayo? That will never happen again with this super easy and quick recipe that allows you to have thick, delicious, customized mayonnaise on the table in no time. All you need is an immersion blender and you are good to go! I especially like it with avocado grilled cheese.
---
4. BBQ Sauce (Vegan)
Who thought that this delicious BBQ sauce takes only 5 minutes to make? It is gluten free and vegan, unlike the most BBQ sauces you can find in stores. Definitely a must try!
---
5. 5 Minute Pizza Sauce (No Cook Recipe)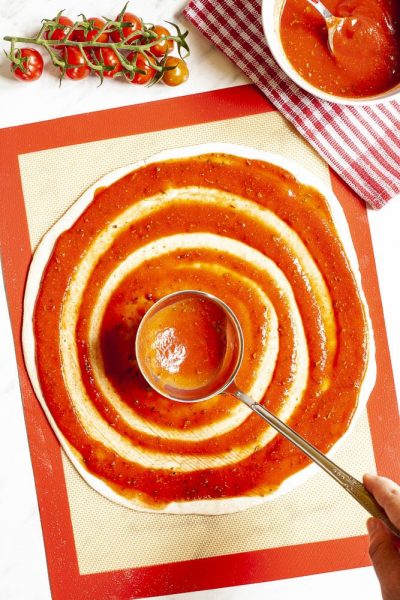 Did you know that you can make a delicious pizza sauce in 5 minutes? This is definitely a game changer! No more frozen pizzas on busy nights. Check out this easy recipe today!
---
6. Vegan Sour Cream (5 Minutes)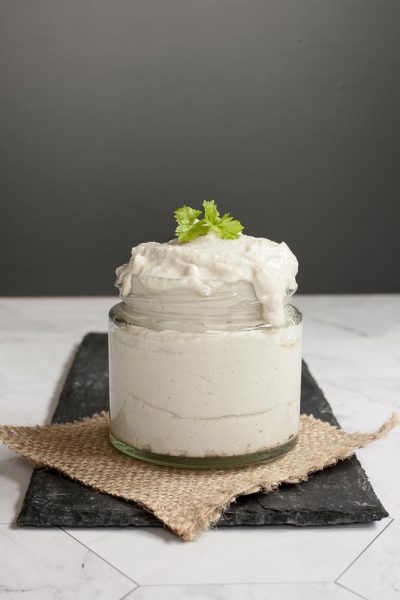 If you are on a vegan diet, then this delicious sour cream is for you! It only takes 5 minutes and calls for 4 ingredients. Definitely a must try!
---
7. Garlic Dipping Sauce Recipe
This is a deeply rich garlic dipping sauce. The creaminess of the sauce is created by blended garlic mixed with some oil. If you like the strong flavor of fresh garlic then this recipe is a must try!
---
8. Shawarma Sauce (5 Minutes)
Shawarma Sauce is also known as tarator. This delicious condiment is made of tahini, lemon juice, water, and salt. This sauce is vegan, soy free, and gluten free! Check out the recipe by clicking the button below!
---
9. Parsley Sauce for Fish
This classic white sauce for fish is ready in under 30 minutes and is such a delicious addition to your dish. Bechamel sauce (butter and flour) is mixed with milk and lots of parsley to ensure silkiness, fresh flavor, and great consistency.
---
10. Parsley Herb Paste
This delicious paste is used in scrambled eggs, omelets, chicken marinades, herb butter, cream cheese spreads, salad dressings, soups, and stews. I am sure you can come up with more ways to use this vitamin packed paste! Check out the recipe below (30 minutes).
---
11. Vietnamese Peanut Sauce (5 Minutes)
This exotic sauce is super easy to make and if you do, you will come back to it again and again. You can use this dipping sauce with spring rolls, or other Vietnamese foods. Check out the recipe below!
---
12. Vietnamese Sate Sauce Recipe
Great addition to stir-frying and grilling, this spicy red sauce comes together in less than an hour and tastes amazing. If you are hungry for something new and exotic, this dipping sauce recipe is for you!
---
13. Georgian Adjika Paste (15 Minutes)
This Georgian paste is commonly used as an additional flavor boost for sauces or as a rub for meats. Spicy and delicious, this paste comes together in 15 minutes and brings eastern notes to your food! Check out more details by clicking the link below.
---
14. Mayonnaise and Ketchup Sauce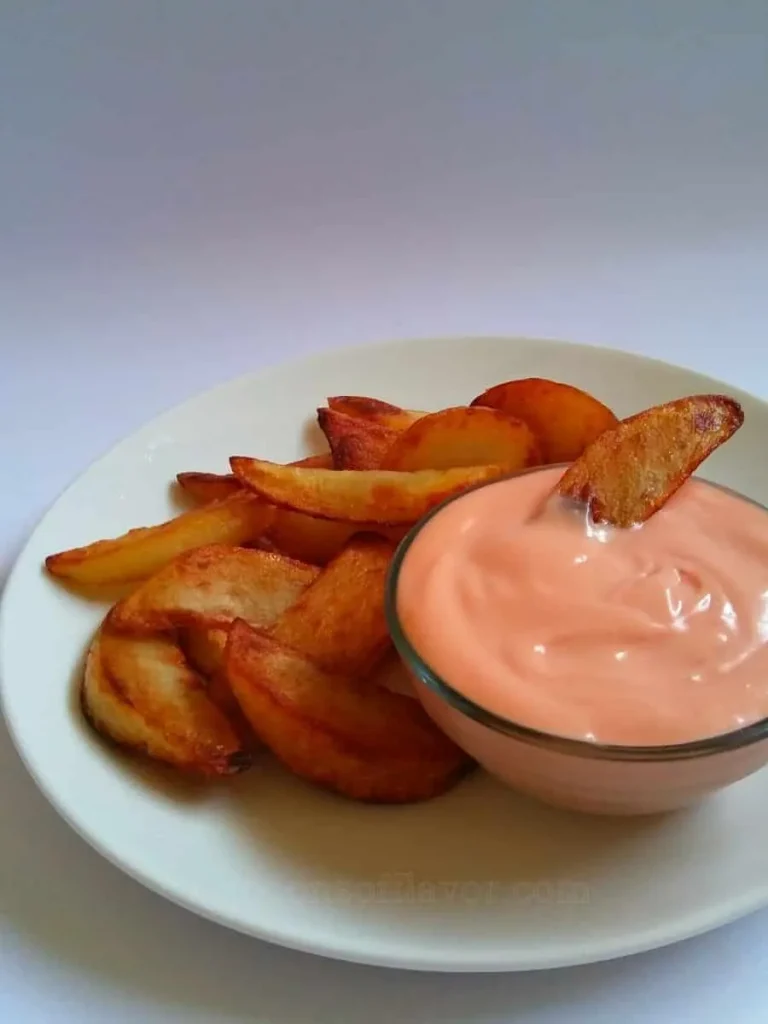 Ok, I know what you are thinking "Do you really need a recipe to just mix ketchup and mayo?". But it is not as easy as that! This recipe includes a few secret ingredients to make your mayo/ketchup mix so much better. Check out the details by clicking the link below!
---
15. Sugar Free Peri Peri Sauce
This delicious Peri Peri sauce is made of avocado oil, chili, garlic, capsicum, red wine vinegar, Thai chili, smoked paprika, lime juice, and a couple of other ingredients. Peri Peri sauce is used as a dipping sauce or in marinades. Check out the details by clicking the link below!
---
16. Arrabiata Sauce for Pasta
This is a super easy recipe for pasta that resembles marinara. It is mainly made of canned tomatoes, basil, and a few spices, which allows you to make this sauce without having to go to the store for extra ingredients (that is if you have fresh basil on hand!). 20 minutes, 4 ingredients, freezer friendly sauce is waiting for you to try it! Link below!
---
17. Sweet Chili Sauce Recipe
Have you tried making this delicious sweet chili sauce? It is considered to be mildly hot, so no need to worry that you will burn your mouth with this chili packed condiment! Definitely worth making. Check out the recipe by clicking the link below!
---
18. Easy Chili Oil Recipe
Have you ever tried adding this delicious chili oil to your sourdough pizza? Oh, it is so good! You can take your dishes to a whole next level by simply adding a splash of infused oil and surprise your guests and family with out of this world flavors. Definitely a must try!
---
19. Healthy Tzatziki Sauce
This delicious herbal sauce with Greek yogurt and cucumber is so refreshing and flavorful. You can use this sauce for dipping chips and veggies in, as a side to baked potatoes, or as an addition to a salad dressing. If you are looking for something fresh and new, this recipe is for you!
---
20. Compound Butter Recipe
Tired of regular butter on your breakfast sandwiches and toasts? This compound butter recipe is definitely a must try for you. Create any flavor you want with this easy guide and take your dishes to a whole new level!
---
21. Miso Tahini Sauce
This delicious creamy miso tahini dressing only calls for 6 ingredients and comes together in 5 minutes. If you are into kale salads, then this dressing is a must try. Make it once and store in the fridge for further uses!
---
22. Easy Dill Aioli Sauce
---
23. Tartar Sauce (5 Minutes!)
Delicious sauce with mayonnaise, capers, pickles, and parsley is a great side for fries, meat, and is really good as a spread for bread! If you have never made tartar sauce before, then you definitely should try it!
---
24. Eel Sauce
This exotic sauce is a great addition to sushi, beef, chicken, grilled vegetables, and Japanese tempura. 3 Ingredients, 7 minutes, and you got yourself a delicious eel sauce also known as Unagi sauce. If you like sushi, then this recipe is going to become your go to!
---
25. Avocado Crema (5 Minutes!)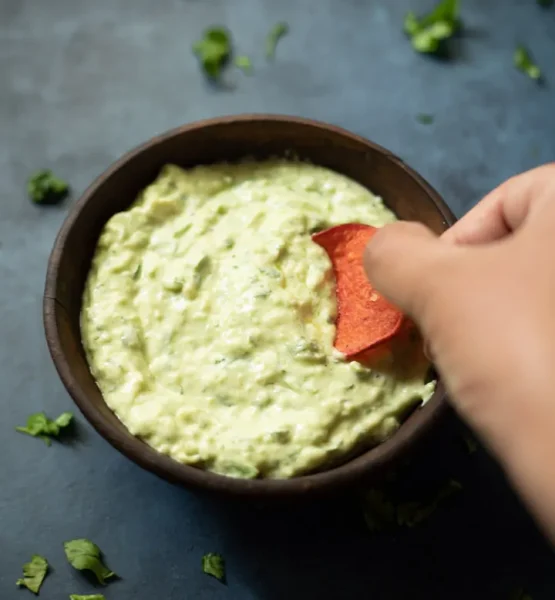 Avocado, sour cream, cilantro, garlic, jalapeno, and olive oil make for a delicious dipping sauce all your guests will love!
---
26. Smoked Salsa Recipe
Breakfast burritos, grilled fish, burgers, crispy tortilla chips, tacos - you can add this salsa to anything you like. This flavorful sauce might become your new favorite!
---
27. Chick Fil A Sauce
6 ingredients, 5 minutes, and you have a delicious Chick Fil A sauce from their menu at home! Check out the recipe by clicking the link below.
---
28. Easy Buffalo Sauce (Whole30 and Keto friendly)
Can you believe that this famous spicy, buttery sauce only takes 4 ingredients and 2 minutes to make? Check out the recipe below!
---
29. Gluten Free Vegan Mushroom Gravy
If you thought that gravies are not for you because of your gluten intolerance, here is a great recipe that will satisfy your gravy cravings without harming your health!
---
30. Homemade Teriyaki Sauce
Did you know that it only takes 7 minutes to make your very own Teriyaki sauce? No more boring chicken dinners! Check out this recipe today.
---
What's Next?
Have you made any of these wonderful sauces at home? I would love to see! Tag me @natashashome_ on Instagram and I would love to share your creations in my stories. If you have any questions, leave them in the comment section below and I would love to answer!
Hi, I am Natasha! Glad to see you here. Hope you join along as I discover and share great recipes that make family cooking easier and more fun! To learn more about me, read my story of how I went from a world traveler to a countryside home cook. Read more...