Wondering 'what can I add to grilled cheese to make it taste better'? This avocado grilled cheese sandwich is just what you have been looking for. You can serve it with some delicious fresh tomato basil soup, broccoli cheddar soup, a Caprese salad, or check out my list of 12 sides for a grilled cheese sandwich.
Jump to:
Ingredients for Best Avocado Grilled Cheese
- Avocado – make sure it is ripe or it will be bitter!
- Cheese – cheddar is a great option but feel free to experiment!
- Bread – the better the bread the better the avocado grilled cheese sandwich! Your local bakery is your best friend.
- Mayo – did you know that it only takes 2 minutes to make your own mayo at home? Seriously!
- Lemon juice (optional) – you can add it to the avocado puree for a flavor boost.
- Spices and herbs – feel free to use any spices and herbs you prefer. I used salt & pepper in my avocado grilled cheese, but it is also a good idea to try adding garlic, basil, spinach, dill, jalapenos, raw onion, etc. Make your custom avocado grilled cheese!
- Butter for frying.
Watch How I Make Avocado Grilled Cheese
Step by Step Recipe
STEP 1
Cut the avocado in half and get rid of the seed. Wondering how to do that without all the extra mess? Watch the video above for more visual instructions!
Mash the avocado with a fork or a potato masher and add all the desired spices and herbs to it. Set aside.
STEP 2
Spread some mayo onto each piece of bread (only on one side). Slice or grate the cheese. Then spread the avocado puree onto each bread mayo side down. Finally, place the cheese on top of the avocado puree and put one of the bread pieces on top of the other mayo side up.
STEP 3
Preheat a frying pan (I use a cast iron skillet, it works wonders!) and add some butter to the pan. Place your avocado grilled cheese sandwich onto the pan and fry for a few minutes until the bottom side browns. Then flip the sandwich and wait for the other part to brown. I fry my sandwiches on the lowest heat possible after I preheat my cast iron pan. If you are using any other type of pan you might want to fry on medium-low heat.
STEP 4
Remove from the pan, cut into triangles and serve with your favorite sauce or tomato soup!
What to Serve Avocado Grilled Cheese Sandwich With?
You can serve avocado grilled cheese with any cream soup, it goes especially well with roasted tomato basil soup made with fresh tomatoes, pumpkin soup, roasted garlic cream soup, or even broccoli cheddar soup. You can whip up some sauce you enjoy and dip your sandwich into it after every bite! I like adding sour cream as a side for my grilled avocado sandwich. Here is my list of the 12 best sides for grilled cheese.
Why is Mayo Better for Grilled Cheese?
Mayo is made from oil and an egg (or egg yolk) which allows for that extra crispy bread exterior of your sandwich. Another good reason to use mayo is its high smoke point. Basically, it is harder to burn mayo than butter. And, finally, it is much easier to spread mayo onto a piece of bread!
Frequently Asked Questions
Do Avocado and Cheese Go Together?
Absolutely! Avocado is very mild in flavor, so it goes with pretty much any cheese. You can even level up the flavor game by making it into a garlic avocado grilled cheese!
Is Avocado and Cheese Healthy?
Generally avocado is good for you but like everything good it requires moderation. Cheese, on the other hand, contains a lot of fat, so lots of cheese is not great for your health.
To make your avocado toast or grilled cheese healthier make sure to use whole wheat bread and add some rather healthy ingredients to the mix. You can substitute cheese for goat cheese and add some extra greens like spinach and basil.
You can also make it into mozzarella avocado grilled cheese by substituting your cheese for a healthier option. If you overdo your avocado and cheese it can easily become unhealthy! Check out this article for more info.
What Cheese Goes with Avocado?
Any cheese will do well with avocado, choose your favorite! Here is a more detailed run down on cheeses to use with avocado.
What is the Best Bread for Avocado Grilled Cheese?
The better the quality of your bread the better the taste will be. I would say go for whole wheat and check your local bakery for some ideas! Some breads will have sesame seeds or nuts in them, that is even better for your sandwich.
What Does Avocado Grilled Cheese Taste Like?
Avocado has a pretty mild flavor, so it adds creaminess to the sandwich, but no crazy flavor. So, you have a lot of space for creativity! Add your favorite spices and herbs to your avocado mix to take your sandwich to the next level.
What's Next?
Have you made this delicious and creamy avocado grilled cheese sandwich? Share your experience! What herbs and spices did you add? What cheese did you use? Leave a comment below and subscribe to the newsletter to never miss a new recipe and to learn how to become a better cook!
📖 Recipe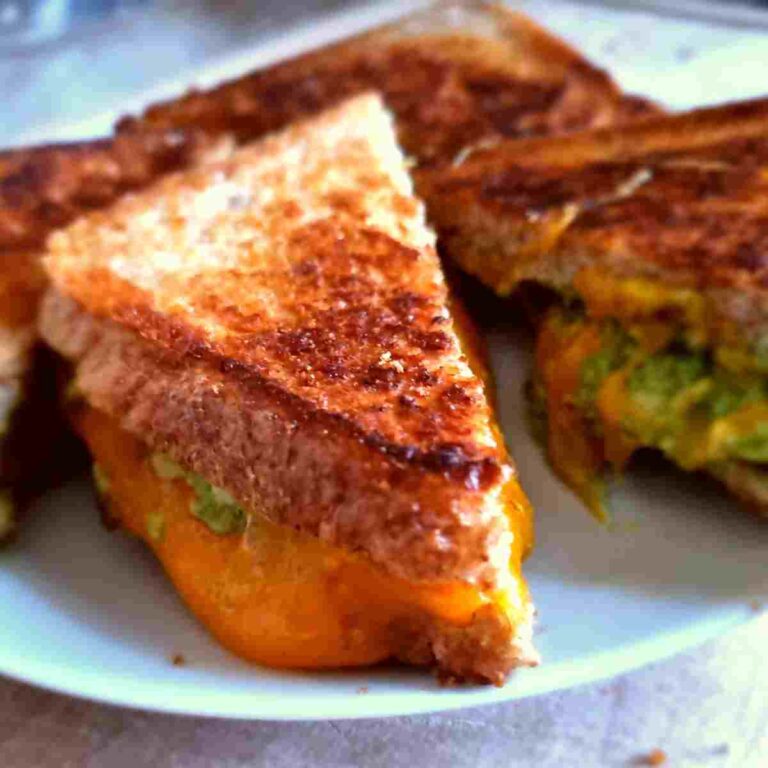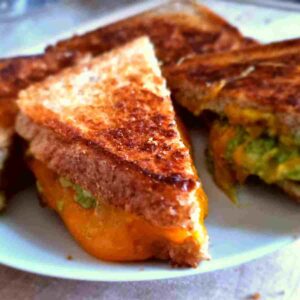 Best Avocado Grilled Cheese
How to Make Best Avocado Grilled Cheese!
Equipment
1 Frying pan

(cast iron works best)
Ingredients
1

avocado

make sure it is ripe

1

teaspoon

lemon juice

fresh

2-3

slices per sandwich

cheddar cheese

4

tablespoon

mayonnaise

salt & pepper

to taste

butter

for frying
Instructions
Preheat your frying pan on medium-low heat. Cut the avocado in half and scoop the puree out into a small bowl. Add lemon juice, salt, and pepper to mashed avocado and mix.

Spread mayonnaise on the outside of each slice of bread. Spread avocado mix onto the bread (not the mayo side), top with cheese, and another bread slice (mayo side up).

Add some butter to the pan, then place the sandwich onto it and fry until browns. Flip and fry until browns on the other side as well.

While the sandwich is frying make all the rest of the sandwiches. Fry all of them like you did with the first one.

Enjoy! Serve on the side of a tomato soup or with your favorite dipping sauce!
Nutrition
[convertkit form=2984496]
Hi, I am Natasha! Glad to see you here. Hope you join along as I discover and share great recipes that make family cooking easier and more fun! To learn more about me, read my story of how I went from a world traveler to a countryside home cook. Read more...