Make a healthier homemade version of mayonnaise with this no-fail 1-minute mayonnaise recipe. It is so easy that you start to wonder what other condiments you can make yourself (I did)! Check out my quick ketchup substitute recipe along with this extensive list of other delicious sauces to make at home.
This post contains affiliate links, which means that if you purchase the products recommended in this post, I make a small commission at no cost to you. You will not be charged extra for purchasing through the links. To read my full disclosure click here.
What's in Mayonnaise?
Mayonnaise consists of egg yolks (or whole eggs), oil, and lemon juice. You want to add salt for better flavor and you can add mustard if you prefer! There are also plenty of other options for add-ins to your mayonnaise. You can add herbs and seasonings of your choice to create your perfect customized homemade mayonnaise sauce!
What Happens if You Blend Mayonnaise?
Why can I make mayonnaise with an immersion blender while no other blender type will work? The answer is simply that an immersion blender allows for slow emulsification of the oil you use. What is emulsification? I'm glad you asked!
Oil consists of small particles that will break up and mix in with egg yolk to create that smooth white delicious mayo you are after. The breaking up of those small particles is called emulsification, but the problem is that if you add too much oil at a time, it will not break up. First, you need to add a very small amount of oil to the egg yolk and as the blender breaks up that little amount, you can add more oil to continue the process.
How Do You Emulsify Mayonnaise?
Now that you know what emulsification means, here is how you make sure your mayonnaise comes together. Egg yolk and lemon juice are your key ingredients to emulsify oil and create your best mayonnaise. Mustard is also added for extra acidity to help the lemon juice do its job, but mustard also adds a nice flavor. When you add all your ingredients together make sure that the egg yolk and lemon juice have fallen to the bottom of your jar and are not still floating in oil. You want to use a jar that is fitting tightly to your immersion blender's head.
Normally the cup that comes with the blender fits well, but mine actually doesn't. I still was able to make great mayo many times with it, but I did have some unfortunate accidents when the mayo just did not come together. Disappointment! How can you make sure your mayo turns out well?
If you don't have a fitting jar then just add your oil a little bit at a time.
Why Is My Mayonnaise Not Emulsifying?
Still not seeing that white creamy mayo no matter how long you mix? I've been there! It is really frustrating. Your mayonnaise might not be coming together because there is too much oil in the initial process of blending. To make sure you don't have excess oil use a tight jar that just fits the head of the immersion blender or add oil little by little. Make sure you have egg yolk and lemon juice in the jar!
How to Fix Broken Mayonnaise?
Add a couple of teaspoons of boiling water and mix again. If it is still very liquid and broken - add more water!
Add an additional egg yolk, but blend with the mixture gradually (add the mixture little by little to the egg yolk).
How to Make Mayonnaise Without an Immersion Blender?
Don't have a hand blender? No problem! You can make mayo with a whisk and a bowl! Just add your egg yolk and lemon juice to a mixing bowl, then start adding tiny bits of oil at a time. As the oil starts breaking up and the mixture thickens you can add more oil and continue whisking until you get your mayonnaise by hand!
How Do You Thin Mayonnaise for a Squeeze Bottle?
To thin out your mayo just add a bit of water and mix! Get it to a perfect consistency by adding a little bit at a time.
Is Homemade Mayonnaise Healthy?
Generally, you don't want to be consuming too much oil, so mayonnaise is good in moderation. But homemade mayonnaise will ensure you have the best quality ingredients and no harmful additives. Use high-quality oil to make your mayonnaise healthier!
Tools You Might Need
- An immersion blender;
- A glass jar.
Ingredients for Homemade Mayonnaise
1 egg – use room temperature egg. Some recipes call for egg yolk only, but egg white doesn't harm mayo, but rather adds more liquid to the mix. Instead of water you can just use egg white to thin your mayonnaise out a bit. If you are concerned about using a raw egg check out this article.
1 cup oil of choice – I use olive oil for my mayonnaise, but you can use any oil you like. Just make sure it has a neutral flavor. It is not recommended to use extra virgin olive oil as it tends to add a bitter taste.
1 tablespoon lemon juice – use fresh for better flavor.
1 teaspoon Dijon mustard – you can skip this ingredient if you prefer.
1 garlic clove – you can add more if you want a really garlicky mayo!
Watch How to Make Mayonnaise in 2 Minutes!
How to Make Mayonnaise Step by Step
STEP 1
Add all ingredients to a jar that fits tightly to the immersion blender head. Wait until the egg and lemon juice settle at the bottom of the jar. Stick the immersion blender tightly to the bottom and start blending on the highest speed.
STEP 2
Let the mayo come up to the top and then start moving your stick blender up little by little. When most of the mixture turned into mayo you can safely move your blender around to get the last bits of oil in.
STEP 3
Transfer your mayo to a storing jar or store in the jar you made it in. Cover with a lid and keep in the fridge for 1-2 weeks.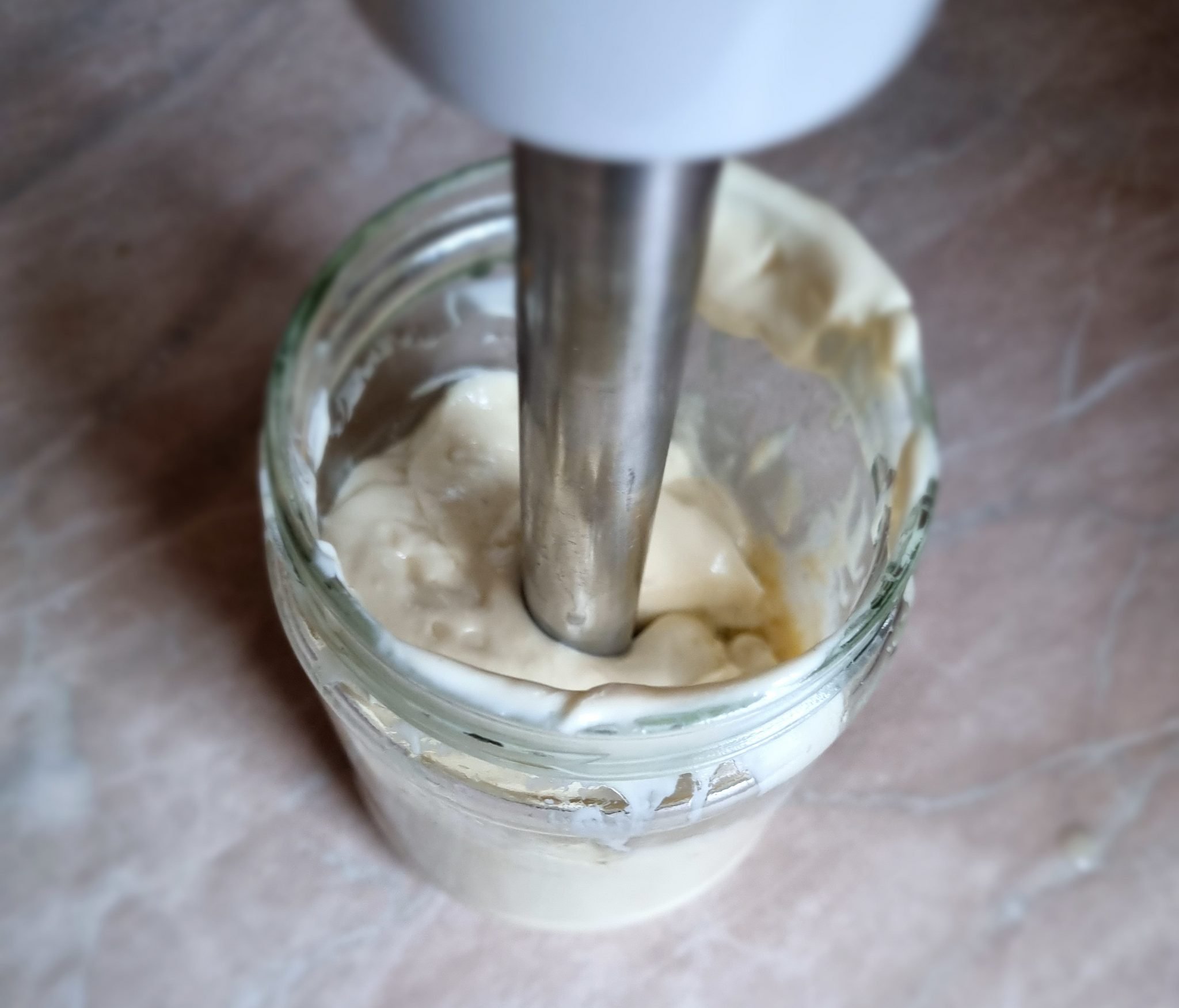 Tips and Tricks
Use your blender on the highest speed from the beginning.
Make sure the egg yolk and lemon juice are on the bottom of the jar before you start blending. You want to make sure there is as little oil as possible at the beginning of the blending process and letting your ingredients settle ensures the right balance.
If your mayo doesn't come together then next time try adding oil little by little. It is ok to fail, that is how you learn!
Don't throw away mayo that did not turn out! Use the tips for fixing your mayo from the earlier section of the article.
It is better to use room-temperature ingredients for better results.
You can add any herbs you would like in your mayo! Such herbs as dill and parsley work great, and you can also add pepper, chives, and any other ingredients you can think of. Experiment to discover your favorite mayonnaise sauce!
What's Next?
Let me know how your mayonnaise turned out! What add-ins do you like to use? I am curious! If you would like to get more recipes like this one, subscribe to the newsletter and continue learning how to become a better cook week by week!
📖 Recipe
No Fail Mayonnaise Recipe
How to Make 1 Minute Mayonnaise with an Immersion Blender
Equipment
1 jar

that just fits the head of the blender
Ingredients
1

cup

oil

olive / sunflower / other

1

egg

room temperature

2

teaspoon

Dijon mustard

1

teaspoon

lemon juice

fresh is best

1

garlic clove

salt & pepper

to taste
Instructions
Place all the ingredients into a jar that tightly fits the head of your immersion blender. Wait a minute until the egg and lemon juice settle on the bottom of the jar.

Place the immersion blender into the jar and push it to stay on the bottom. Turn to the highest speed and let the mayo start getting to the top of the mix. As soon as you see some mayo formed you can start moving the blender up and down to get all the rest of the oil mixed into the mayonnaise.

If your mayo for some reason did not blend well, then just add 1-2 teaspoon of boiling water and repeat the process. The mayo will be more liquid but it should come together.
Nutrition
[convertkit form=2984496]
Hi, I am Natasha! Glad to see you here. Hope you join along as I discover and share great recipes that make family cooking easier and more fun! To learn more about me, read my story of how I went from a world traveler to a countryside home cook. Read more...