Caprese salad is probably one of the most popular Italian salads on this side of the world! It is originally made with fresh tomatoes, mozzarella, fresh basil, and a drizzling of olive oil or balsamic vinegar.
This salad is a traditional Italian side dish to many delicious meals. Here you will find the best pairings for Caprese!
Jump to:
Don't want to scroll? Here is a quick and simple answer!
Our absolute favorite pairings for Caprese are Bolognese, Pasta alla Norma, potato casserole with sausage, honey-roasted chicken, panini sandwiches, garlic bread, polenta, focaccia, and steak.
Bolognese is a traditional Italian pasta recipe that already contains marinara sauce and ground meat. A touch of fresh tomatoes, mozzarella, and fresh basil only adds to the flavor profile of an already rich dish!
This is a vegetarian Italian pasta that is no less rich than the one above. I really like how roasted eggplant mimics meat in the dish, hence making it complete. A side of a fresh Caprese salad will add to the experience!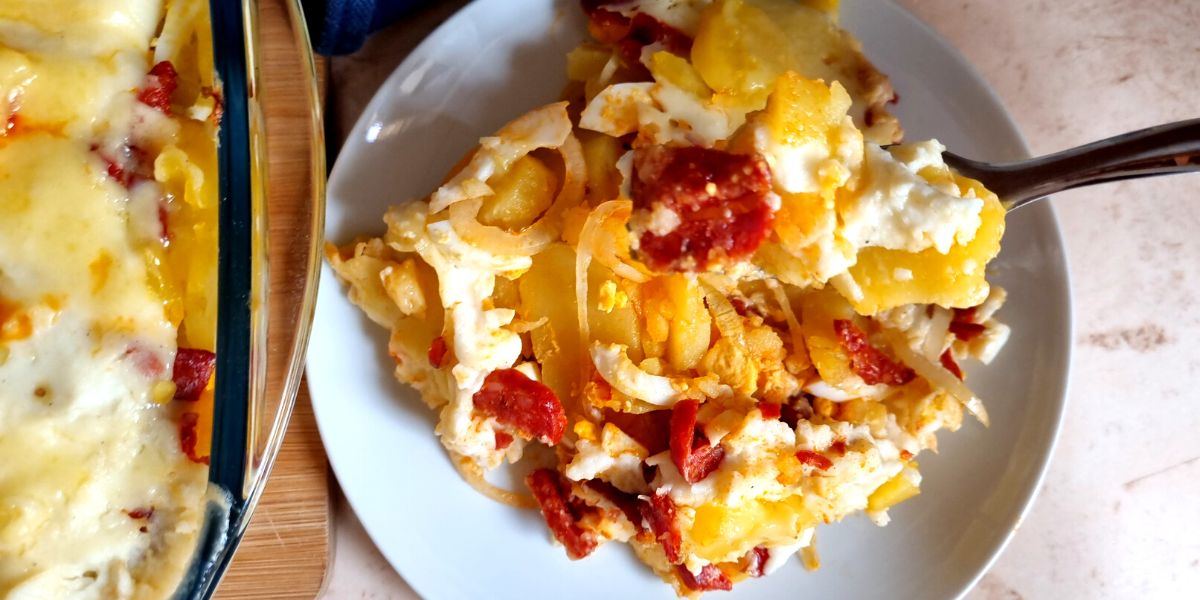 Sausage is another common ingredient in Italian meals. This specific recipe is not Italian, however, but it originated in Hungary. Yet, I find that the rich flavor and the fatty content of this meal call for a light salad on the side!
The only thing that is missing from this picture is the mozzarella! The recipe pretty much speaks for itself.
Steak kabobs are made by marinating the sirloin overnight and then grilling it with veggies and onions. Such a simple recipe, yet, it makes for a family holiday meal!
This beef recipe is made in a crockpot which makes it a super-easy meal to make on a busy day. A side of Caprese drizzled with balsamic reduction will make it not only an easy, but a healthy meal!
If you like mushrooms as much as I do, you will save this recipe to your Pinterest, notes, sticky pad, and desktop! I'm kidding. But seriously, this chicken pasta with mushrooms and creamy sauce is SO GOOD, you don't even need a Caprese salad to enjoy it!
This lasagna is also known as Lasagne Alla Portofino. It is made with pesto, broccoli, spinach, and peas. What a bundle of nutrition and vitamins! Add the freshness of Caprese and you are all set.
What could be a better side for a fresh salad than some delicious bread stuffed with sundried tomatoes and olives? This focaccia will make your Caprese experience much more Italian!
The richness of cheese and avocado is paired with the freshness of the traditional Italian mozzarella tomato salad. Apparently, grilled cheese is not only to be served with soup!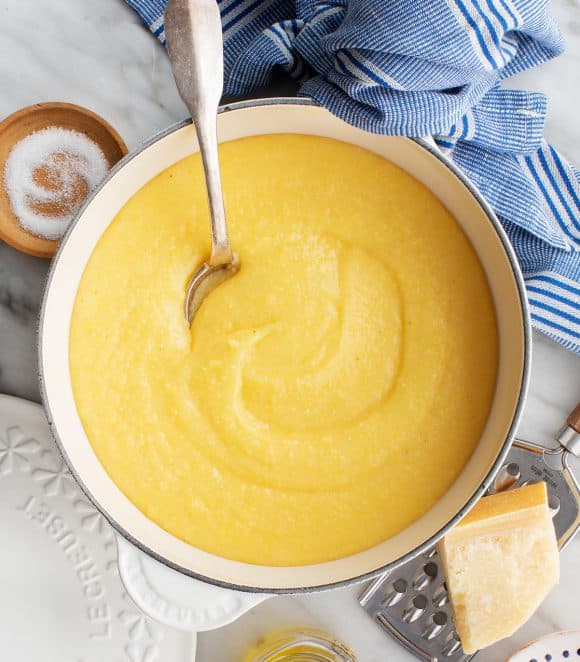 Polenta is a traditional Italian side dish that could be compared to our rice or mashed potatoes, although it is very different from those. Polenta is made from cornmeal which is simply coarsely ground corn!
This garlic bread is delicious on its own! However, a side of fresh tomatoes, basil, and mozzarella cheese adds juice to this traditional American side. You will be surprised how easy it is to make this at home!
Did you enjoy this recipe collection? Here is another one for you! Check out my 12 top recipes to serve with Turkish bread!
📖 Recipe
Mains to Serve with Caprese Salad
Caprese is a vegetarian salad that goes great with all sorts of main dishes. Here is the list of things to try!
Ingredients
For Caprese Salad
tomatoes (or cherry tomatoes)

mozzarella

fresh basil

salt & pepper to taste

balsamic reduction/olive oil
Instructions
Choose a recipe from the list you like the most.

Get the ingredients and follow the instructions!
Notes
Make sure to use fresh ingredients and only chop them when you are ready to make & serve the salad, otherwise, they might start looking old and soggy. 
You can, however, store the salad in the fridge in an airtight container for 3-4 days. I don't recommend freezing it. 
Use cherry tomatoes for a different flavor, in this case, you can toss the ingredients into a bowl and skip on slicing the tomatoes! 
Nutrition
Serving:
1
recipe
Calories:
268
kcal
Carbohydrates:
14.5
g
Protein:
13.4
g
Fat:
19.1
g
Saturated Fat:
6.4
g
Cholesterol:
30
mg
Sodium:
670
mg
Potassium:
889
mg
Fiber:
4.5
g
Sugar:
9.7
g
Calcium:
146
mg
Iron:
1
mg