If you spot an elderberry tree in the wild or in your own backyard (like I did), you can make plenty of delicious things by using those black berries that are full of vitamins and nutrients. Here is a list of 6 amazing recipes you can make by using whether fresh or dried elderberries with a few additional ingredients!
1. Elderberry Jam (No Pectin)
You can make elderberry jam by using fresh ripe elderberries that you can find in the wild (or in your backyard!), slightly unripe apples, lemon juice, and sugar. This jam is not found in most grocery stores, yet, is a healthy and delicious condiment to add to your breakfasts and desserts! Also, it's a great alternative sweetener for a cup of tea.
---
2. Elderberry Syrup
Elderberry syrup can be used throughout the year to flavor your drinking water turning it into delicious fruit juice. This recipe only requires dried elderberry, cinnamon, ginger, cloves, and raw honey and is ready in less than one hour!
---
3. Healthy Elderberry Tea
This recipe calls for similar ingredients as elderberry syrup: dried elderberries, cinnamon, cloves, cardamom, ginger, and honey. The process is very similar to elderberry syrup making, the difference is that with the tea you get is not as sweet and concentrated. You could make this tea by using elderberry syrup as well!
---
4. Elderberry Cake (Gluten Free)
This elderberry cake's crust is made with crushed almonds and dates and filled with delicious elderberry curd. The recipe is very easy to make, so if you've got some elderberry juice then all you need is some staple pantry ingredients to complete the recipe!
---
5. Elderberry Gummies (Vegetarian)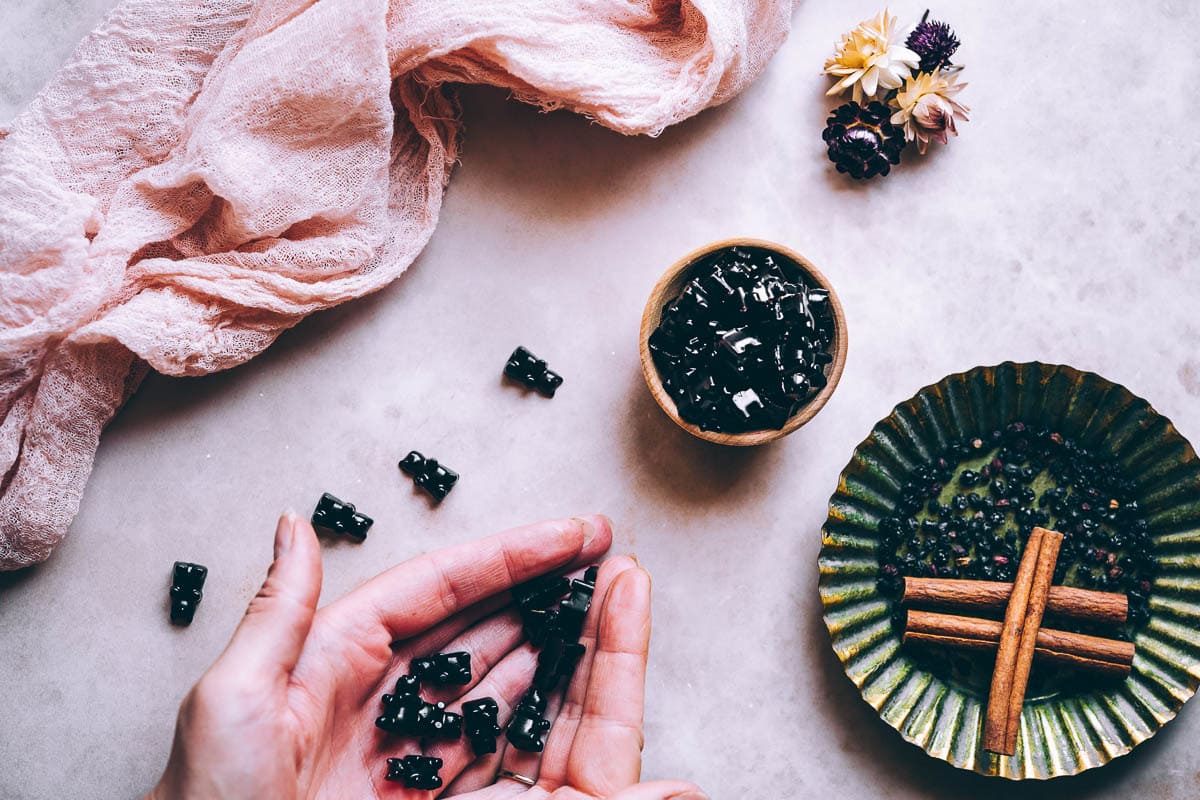 You wouldn't believe how simple this recipe is! All it requires is 3 ingredients – elderberry syrup, honey (or another sweetener of choice), and a gelling agent like agar agar. This is a delicious and healthy snack full of vitamins!
---
6. Elderberry Powder
All you need for this recipe is dried elderberries and a grinder. You can use elderberry powder for jelly, jam, muffins, as a flavoring for yogurts or oatmeal, you can use it to make lollipops, gummies, syrup, teas, and even wine. Check out the recipe for more details!
---
7. Elderberry Ice Cream (In an Ice Cream Maker)
This recipe will require an ice cream maker. The special ingredients in this recipe are fresh elderberries and a touch of elderberry liquor. You don't need a whole lot of liquor, just a tablespoon per the whole batch of ice cream. The liquor helps with the ice cream texture as well as adds to the overall flavor of the dessert!
---
8. Elderberry Cough Drops (3 Ingredients)
This recipe only calls for freeze-dried elderberries, honey, water, and coconut oil. Super easy recipe to make! Elderberries are full of vitamins and help in soothing flu symptoms. A great choice for the cold seasons!
---
9. Fermented Elderberry Infused Honey
This honey is not just infused with elderberries, it is also left to ferment so that you don't only get the benefits of honey and elderberry but the good bacteria that develops during the fermentation. A great remedy for cold and flu symptoms!
---
10. Elderberry Pie
Delicious elderberry pie calls for common ingredients and is pretty easy to make. A great recipe for a Fall family dinner table!
---
What's Next?
Have you made any of these recipes? Share your experience and questions in the comment section below!