Did you think you would never enjoy delicious pasta for dinner ever since you had to go gluten-free?! That is not true! Gluten-free pasta dishes can be SO good, you won't even know they are gluten-free. Here is my ultimate collection of gluten-free pasta meals for you to try!
Jump to:
Pasta is the one ingredient in many recipes that turns gluten-intolerant people away from the page. Let it not be so any longer! To make these delicious gluten-free rich pasta recipes you need to get gluten-free premade pasta from your grocery store. The shape of the pasta will depend on the recipe but generally, all of the brands should work.
If you want to go the extra mile and make YOUR OWN homemade gluten-free pasta, check out this easy pasta recipe!
Tips on Cooking Gluten-free Pasta
- If you are making gluten-free spaghetti, make sure to take an extra large pot and boil it in a large amount of water. Gluten-free pasta is very starchy, so if you don't add enough water, it will stick.
- Once you have cooked your pasta, rinse it in water to get rid of excessive starches and add a little bit of oil to prevent sticking.
- Eat pasta while fresh. Storing cooked gluten-free pasta in the refrigerator will make it sticky and hard to incorporate with other ingredients!
- Make sure to salt your water VERY well.
Delicious Bolognese sauce is made with wine, broth, milk, and tomato puree, seasoned with oregano, basil, and bay leaf. Use Gluten Free spaghetti to make this flavor-packed gluten-free dish!
This pasta dish is not only gluten-free but it is also vegan! If you love asparagus, go check out this delicious recipe!
No-cream carbonara recipe with Parmesan and pork, seasoned with lots of black pepper, made creamy with egg yolks that bring richness to the whole dish. Check out the recipe below!
This recipe is RICH and delicious in spite of it being vegetarian! The natural sweetness of carrots and onions combined with fresh basil and juicy roasted eggplant create a flavor blast on your plate!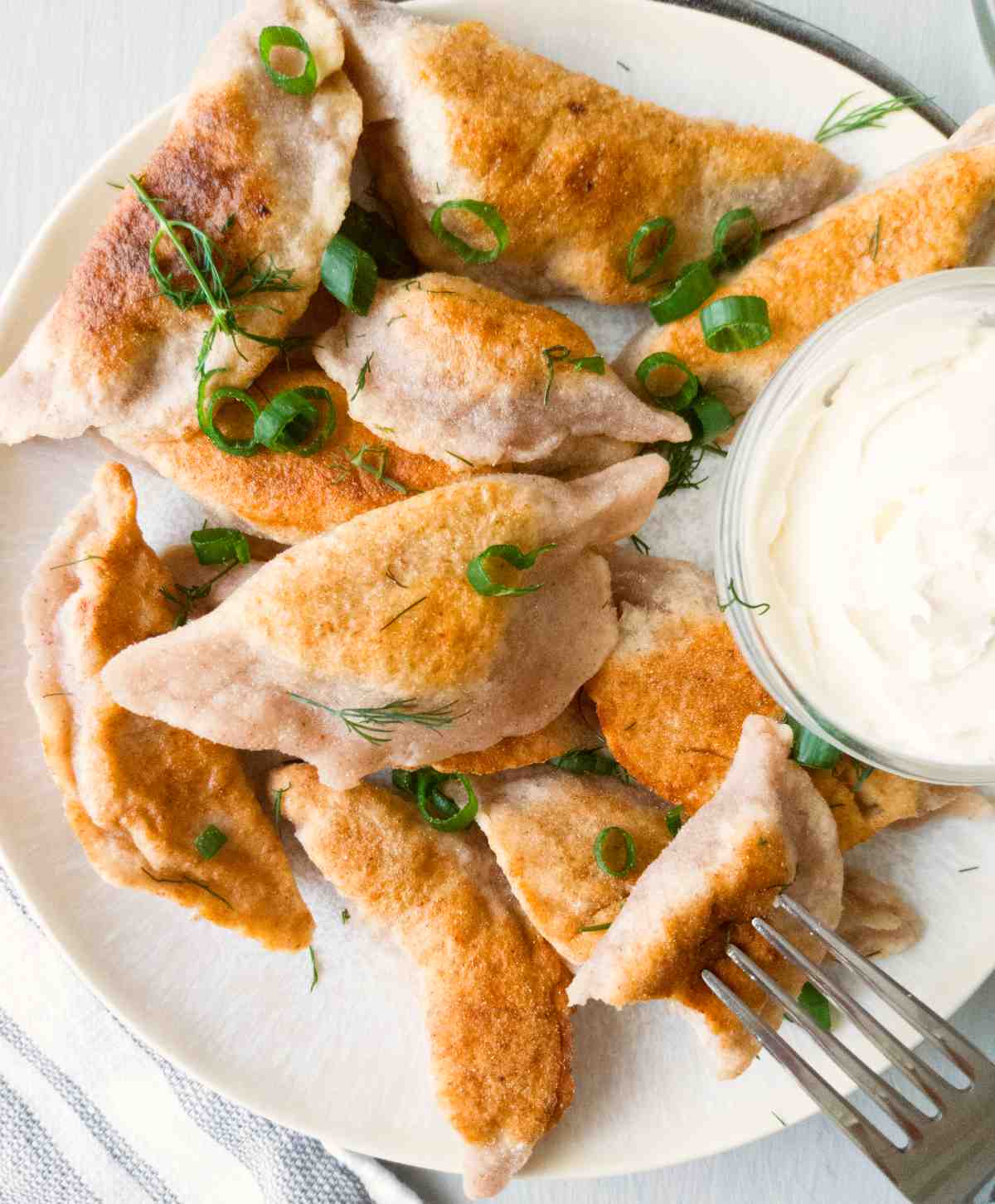 This is the best gluten-free pierogi recipe on the web! The dough is so flexible and moist that it holds up together all the way through shaping to cooking. Boil and fry your pierogi for the best texture!
Did you know there are many variations of this dish? Check out my post on the differences between pierogi, pelmeni, vareniki, and other dumplings.
This dish is the traditional meal in many Ukrainian and Russian homes. I ate pelmeni growing up as well! After moving away from my home country I haven't been able to find this dish in the frozen section of grocery stores, so I had to come up with my own homemade version of it that is also gluten-free. And I can testify that these gluten-free pelmeni taste just like their wheat cousin!
Traditional Italian recipe is full of cheese, butter, garlic, and lemon flavor. Delicious savory gluten-free pasta recipe that comes together in 10 minutes!
Alfredo Fettuccine Pasta
Simple Gluten Free pasta recipe that is packed with flavor and full of delicious Alfredo sauce.
This delicious pasta salad is filling, fresh, and packed with flavor! This classic American macaroni salad is ready in 10 minutes and can be customized to your liking. Check out the recipe now!
Mac and Cheese
A delicious, cheesy, and rich gluten-free Mac and Cheese pasta is going to make you come back to this recipe again and again!
Zucchini Noodles with Avocado Pesto
Delicious zucchini noodles soaked in avocado pesto sauce are so hard to resist! Add some roasted cherry tomatoes to make this dish a flavor blast.
Chickpea Rotini Pasta with Arugula
This rotini pasta is healthy, packed with vitamins and flavor. Great lunch idea for dinner!
If you love fish, this tuna salad with pasta will be one of your favorite recipes for dinner with family!
Parmesan is one of the richest Italian cheeses I have ever had. If you see Parmesan among the ingredients, you know the dish is good! Make sure you know how to tell real parmesan from fakes!
Sweet Hungarian Buttered Poppy Seed Noodles
If you are in for a sweet dinner that is packed with flavor, here is your poppy seed pasta recipe! Did you know you could make pasta with poppy seeds? Now you do!
If you love cooking gluten-free food, make sure to check out my collection of the BEST gluten-free savoury recipes! Then, if you are a proud owner of a cast iron Dutch oven, you will be happy to know I've gathered my favorite gluten-free recipes made in a Dutch oven.