This is your ultimate collection of the best gluten-free pizza dough recipes. You will find yeast-free crusts, gum-free ones, flourless crusts, and many more creative solutions for a gluten-free diet!
Jump to:
Do You Need to Use Yeast in Gluten-Free Pizza?
There are different versions of gluten-free pizza dough, some require yeast and some don't! If you want a more airy pizza with air pockets in the dough then you definitely need to use a yeasted version. If you like a thin-crust pizza, then yeast-free pizza is great for you!
Finally, there is a wild yeast type of pizza which is made with a gluten-free sourdough starter. This one requires the most work but the result is worth the hard work!
Do You Need to Use Xantham Gum?
While some recipes call for xanthan gum or guar gum, I prefer psyllium husk in pizza crusts. Psyllium husk makes the dough softer, more flexible, and allows for more moisture. Your crust won't dry out later either! To learn more, read what does psyllium husk do in gluten-free baking.
Having said that, there are some recipes that don't call for either gum or psyllium husk because the dough holds up well due to other ingredients.
What Gluten-Free Flour Is Best for Pizza Dough?
There is a large variety of gluten-free flours and most of them can be used to make pizza. However, there also are premade flour blends that you can buy that are specifically designed to make pizza dough. Those will work the best, yet, you can also go the cheaper route and get separate types of gluten-free flours and mix your own blend. I have a recipe for a gluten-free flour without rice and a nightshade-free gluten-free flour blend.
Gluten-Free Pizza Topping Ideas
- Margherita pizza is made with tomato sauce, mozzarella, and fresh basil.
- Pepperoni pizza has a tomato sauce base, thinly sliced gluten-free pepperoni, and fresh mozzarella.
- The vegetarian version may include a tomato sauce base, sautéed mushrooms, bell peppers with onions, and fresh mozzarella.
- Hawaiian-style pizza would have tomato sauce, gluten-free ham sliced, pineapple chunks (you can use canned), and mozzarella cheese.
- BBQ Chicken version needs gluten-free BBQ sauce (check the package to make sure it is gluten-free), diced cooked chicken (boiled or pan-fried), red onions, and fresh mozzarella cheese.
- Buffalo Chicken style has gluten-free buffalo sauce, diced cooked chicken (boiled or pan-fried), red onions, and blue cheese crumbles.
- Caprese pizza will have tomato sauce, sliced fresh tomatoes (cherry tomatoes are good, too), mozzarella cheese, and fresh basil.
- Mediterranean version needs tomato sauce, sliced olives (black or green), cubed feta cheese, red onions, and sliced fresh tomatoes.
- Bacon and Ranch pizza will need ranch dressing as a base, pan-fried bacon pieces, sliced fresh tomatoes, and fresh mozzarella cheese.
- Pesto version has pesto sauce as a base, sliced fresh tomatoes, sliced red onions, and fresh mozzarella cheese.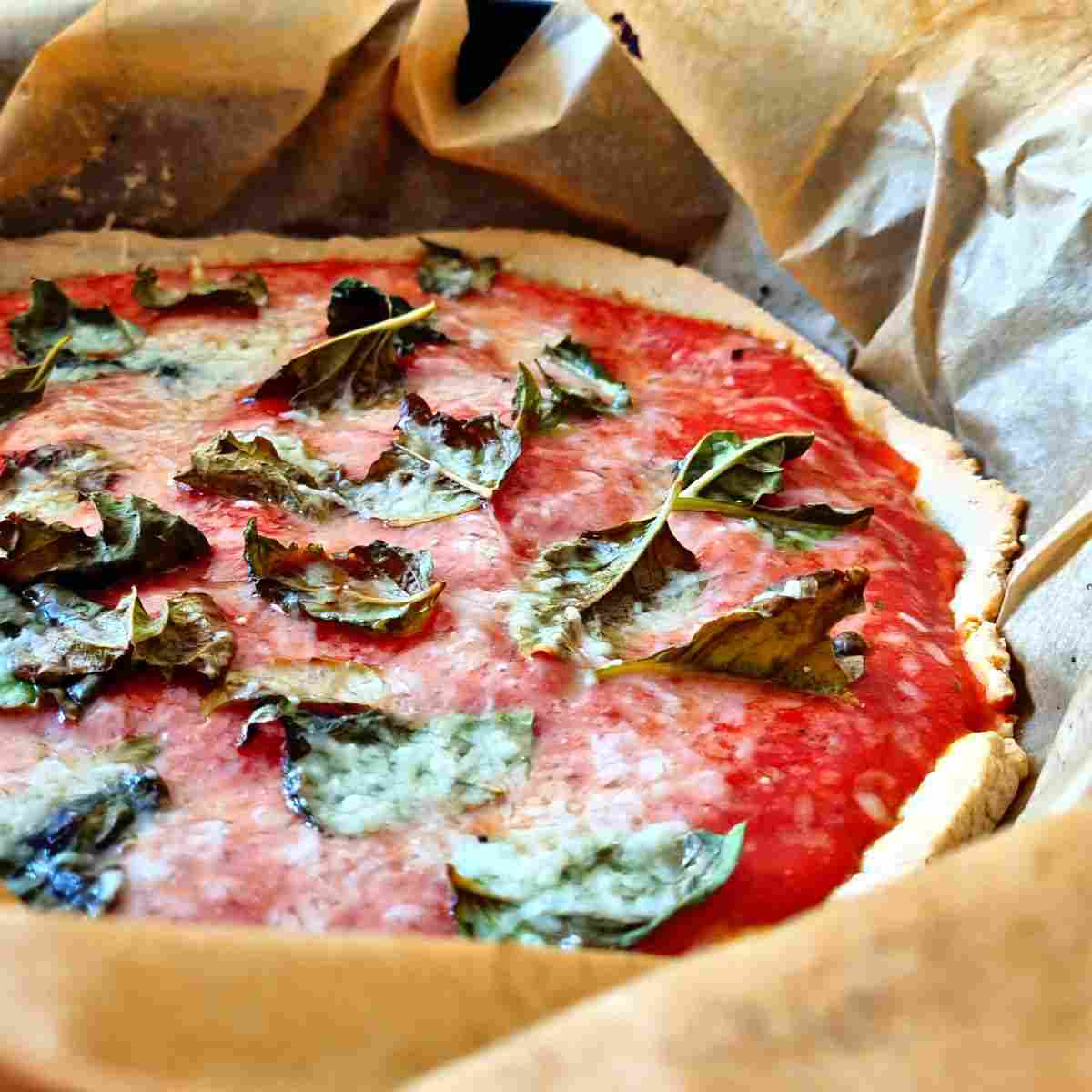 This pizza is very easy to make, doesn't reqire yeast, rising time, gums, and any extra work. All you need to do is mix the ingredients, let it sit for 5 minutes and bake!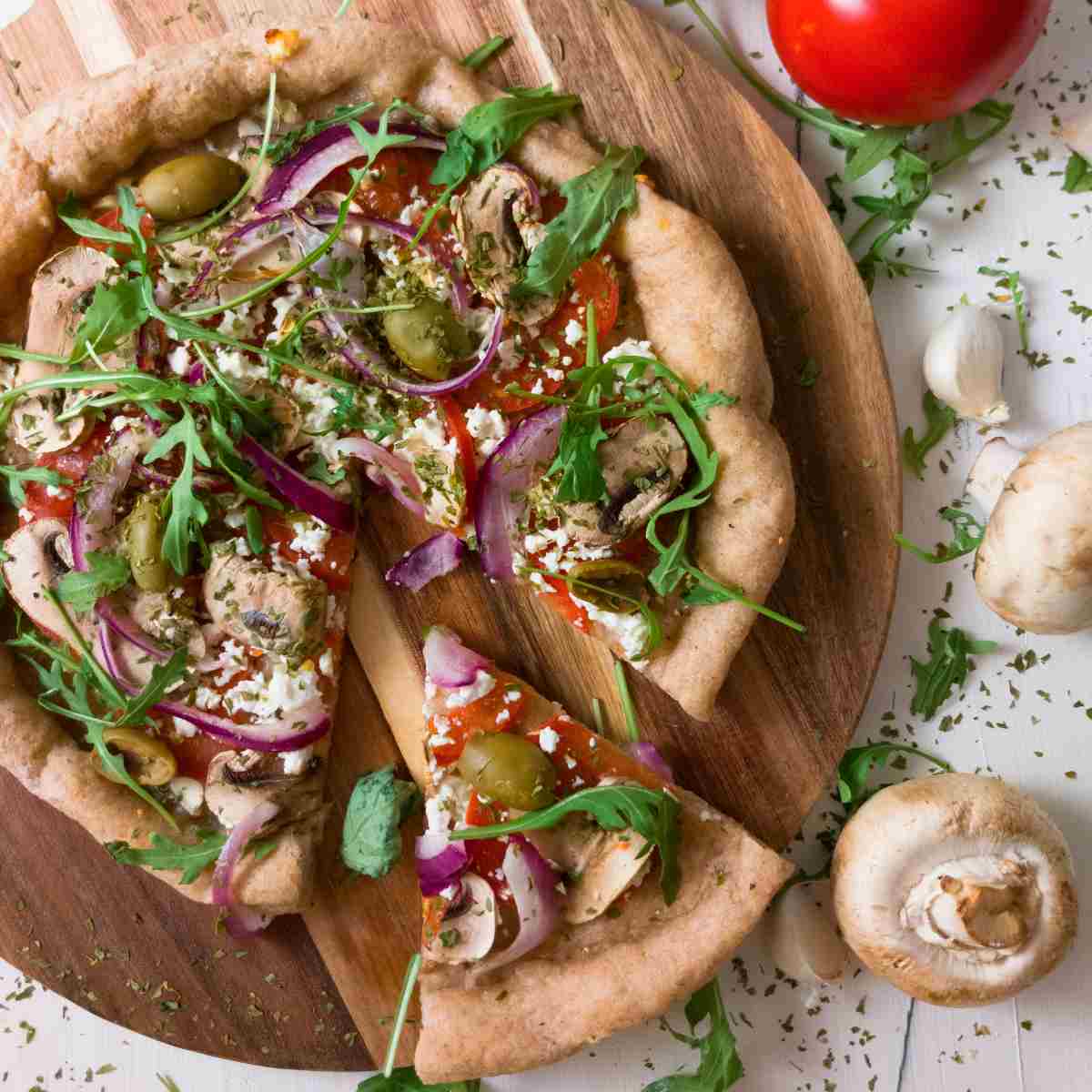 This is by far the best pizza crust I have had so far. It uses psyllium husk to make the crust flexible, moist, soft, and altogether delicious. You can make either thick or thin crust with this recipe. This pizza is made using a gluten-free brown rice sourdough starter instead of yeast!
These mini pizzas are delicous and are great on their own! However, you can serve them with some parmesan crusted pork chops (low carb) or with some sour cream and chives mashed potatoes!
This pizza is good for you as it uses cauliflower for the crust thus allowing for a better nutrition intake! Plus, it tastes delicious.
Polenta is another name for cornmeal. This pizza crust is made with corn but not the way you would expect! Check this recipe out for more details.
An interesting take on a pizza crust - whipped egg whites with egg whtie powder make up the whole crust!
This pizza is made with a very specific gluten-free flour blend. If you are already using this flour, you will love this recipe!
This recipe is coming to you stragiht from Hungary! Super-thin gluten-free pizza with very few ingredients.
If you like gluten-free focaccia and thick-crust pizza, this recipe is perfect for you! Fluffy gluten-free focaccia is topped with rich toppings for the best pizza experience.
Chickpea flour is a very special type of gluten-free flour I like to use in baking for certain recipes. It is especially great when it comes to gluten-free sourdough starters. However, you can make great chickpea flour bread with yeast with it as well!
This recipe is perfect for a Valantine's Day dinner!
Finally, here is another crustless pizza made with butternut squash for better nutrition.
Expert Tips for Making the Best Gluten-Free Pizza Crust
Measuring Gluten-Free Flour
To ensure the best results it is always best to use a 13$ digital kitchen scale. I strongly recommend you get one to use daily in gluten-free recipes. A digital scale will save you time, decrease the number of dirty dishes, and it will serve you for years and years to come!
Having said that, if you are going to use cups to measure flour, make sure to follow a few simple steps for the most accuracy. First, fluff the flour in the jar using a spoon. Then, scoop the flour with a spoon and place it into the cup, don't scoop the flour directly with the measuring cup as it will result in flour compressing and weighing more than needed. Finally, slide the back side of a knife over the measuring cup to get rid of the excess flour.
Let the Dough Rest Before Baking
If the time allows, let the dough sit in the refrigerator right after you mixed it to allow for the liquids to absorb better. Gluten-free dough needs time to settle plus letting it sit in the fridge will harden the dough and make it easier for handling!
Working with Sticky Dough
My best advice for working with sticky dough is to grease it with oil on top and flour the working surface below it. Some people recommend flouring the surface of the dough but I find that it makes the crust drier. Rather, sprinkle some oil on the dough and continue adding a little bit more every time you feel that the dough starts sticking again.
To roll the dough out you can either use a rolling pin or simply spread the dough with your hands on a piece of parchment paper.
Making Pizza Crust Ahead of Time
To make your pizza ahead of time you will need to parbake it. Parbaking means baking halfway through. Parbake the crust and place it into the freezer until ready to use. Then, add toppings and pop into the oven! It is best to freeze pizza without toppings although it is possible to freeze it with the toppings already on.
If you are planning to make pizza in the next few days, you can keep the dough in the refrigerator without freezing it. Try not to leave the dough in the fridge for more than 3 days! A great idea is to prebake these for the Game Day party!
The Best Dishes for Baking Pizza
Pizza stone is, of course, number one when it comes to baking pizza! Then, there is a cast iron skillet that can be preheated in the oven for a crunchy crust. If you don't have either, you can bake pizza on a regular greased baking sheet (or lined with parchment paper). I have not tried making pizza in a toaster oven, but I know it is good for reheating pizza!
What's Next?
If you liked these pizza crust recipes, check out my gluten-free sourdough bread recipes, my gluten-free chickpea bread, and my easy gluten-free artisan bread recipe.